On the second day of the Twelve Days of Christmas cocktails, ask your true love to whip you up a cocktail with chocolate and caramel…like this boozy Bourbon Caramel Turtle Milkshake.  Inspired by those delectable chocolate and caramel pecan turtle candies everyone gives during the holidays, this milkshake is a little bit sweet and a little bit naughty, just the thing to make your holiday parties a hit.
Who can resist chocolate, caramel, and pecan, am I right?  It's Christmas dessert in a glass!  (Psst. I'm guessing Santa wouldn't mind if you left him a sip of this decadent milkshake with his Christmas cookies instead of milk…just saying… )

Bourbon Caramel Turtle Milkshake
5-6 scoops Butter Pecan Ice Cream
6 oz. Pecan Bourbon
3 oz. Creme De Cacao
3 oz. Caramel Liqueur ( I used Van Meer's Stroopwafel)
6 oz Milk (Whole or 2%)
Crush Pecans
Whipped Cream
Caramel Syrup
Chocolate Syrup
(2 servings)
Place the scoops of ice cream in a blender.  Add the pecan bourbon, creme de Cacao,  and Caramel Liqueur and blend until smooth.  Take milkshake glasses and drizzle the caramel and chocolate syrups down the side of the glass, swirling the glass as you pour.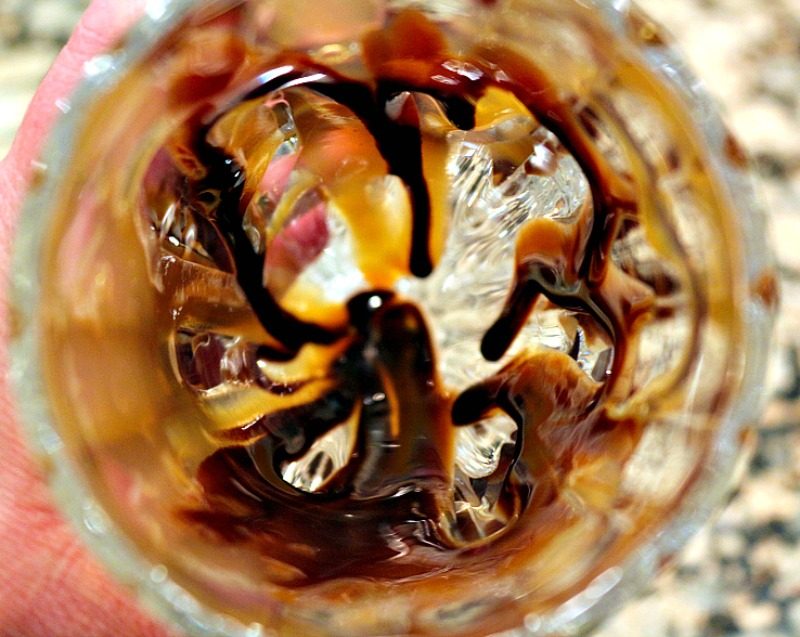 Pour the milkshake into each glass and garnish with whipped cream, caramel and chocolate syrup, and some crushed pecans. Note:  This will not be as thick as a traditional milkshake…it does have booze in it after all!
A few mixing notes:  If you cannot find pecan flavored bourbon, use pecan whiskey, but the bourbon gives it a more subtle caramelized flavor.  Also, creme de cacao is chocolate liqueur without cream, but if you cannot find it, you can use a chocolate liqueur like Bailey's with cream.
Looking for a Halloween boozy milkshake?  This Kahlua Pumpkin Spice Caramel Mudslide is perfect!

Twelve Days of Christmas Cocktails
First Day of Christmas:  Gingered Pear Margarita