When people travel, one of the last things they think about is where to eat at their destination. Most travelers take care of hotel accommodations and daily activities, but what about meals? After all, finding good local cuisine at a destination is half the fun of traveling, isn't it? Fortunately, finding a fun and delicious place to eat in Santa Barbara is easy, because there is only one choice…The Palace Grill! Incredible service, a festive atmosphere, and delectable cuisine sets The Palace Grill apart from other restaurants and is our favorite restaurant on the California central coast!

The Palace Grill Santa Barbara
Tucked away on a little side street just off the main drag (State Street) in the Old Town district, The Palace Grill features cajun and creole cuisine with a gourmet touch.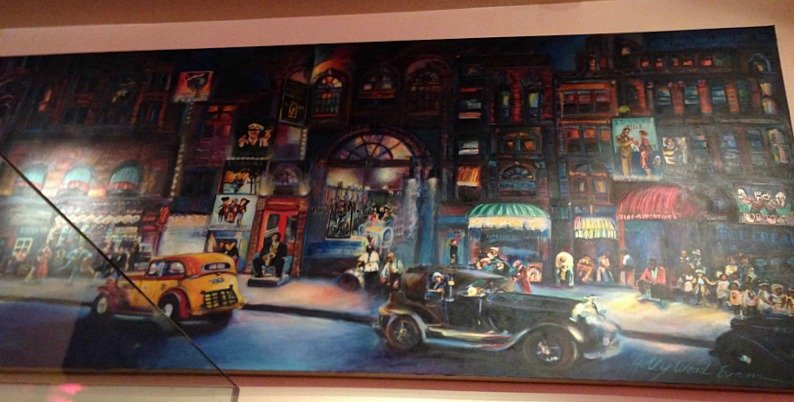 When you first walk into The Palace Grill, the first notice you notice is the bold decor–the dark wood-lined walls, colorful neon signs, Mardi Gras beads, playing cards on the ceiling, and art deco/big easy style artwork. The decor certainly creates a festive atmosphere for diners, but most people are not there for the decor–they come to Palace Grill for the food and the fun!
The Food
The Palace Grill features fresh steaks, seafood, and pasta dishes, with an emphasis on spicy cajun/creole Appetizers include oysters rockefeller, crayfish crabcakes, and Caribbean coconut shrimp. My son, though not a fan of tomato-based dishes, goes crazy for the Gumbo Ya-Ya.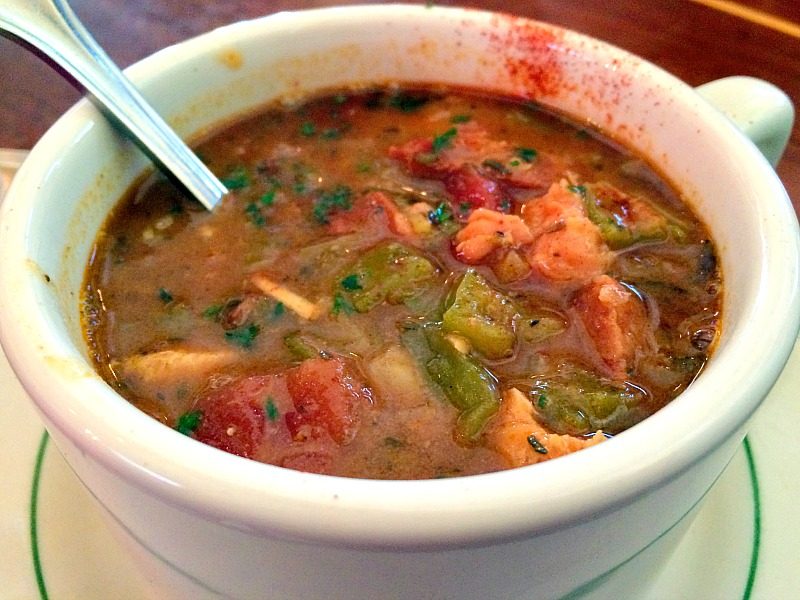 Main dishes include Blackened Red Fish, Stuffed Filet Mignon, and Pecan Chicken Piccata, but their two specialty dishes are the Chicken Tchoupitoulas and the Jambalaya Pasta. I've tried to recreate the Chicken Tchoupitoulas dish at home and much to my family's disappointment, have been unsuccessful. Thank goodness we make the trek to (or through) Santa Barbara at least once a year to get our Palace Grill fix!
Palace Grill is also known for their desserts, especially their bread pudding souffles, both the Grand Marniér and the dark chocolate. Be sure to order the souffles just before your entree arrives, as it takes about 25-30 minutes to prepare.

The Fun
Our favorite part of the Palace Grill, other than the food? The nightly tradition staff and guests have in celebrating New Orlean's own famous trumpeter, Louis Armstrong. Every single Palace Grill staff member, from server to chef to bartender steps away from their work for a few minutes each night to roam the restaurant, meeting with dinner guests to clink a glass in cheer while the whole restaurant sings "It's A Wonderful World". It is an amazing sight to see! Nothing celebrates the "laissez les bon temps rouler" spirit of New Orleans better than this wonderful Palace Grill tradition. We've been coming to the Palace Grill for over ten years and look forward to participating in this every time we visit.
The Palace Grill has been featured in Sunset magazine, Food & Wine magazine, and the Los Angeles Times.


Tips
Don't pass on the bread basket. They have the most incredible homemade muffins.
Let your waitstaff know if you are celebrating a special event, as they will bring a little treat at the end of the meal.
They have a variety of New Orleans style cocktails, but watch out, they are strong!
Service is always impeccable. The staff work together, so you can ask anyone for help or suggestions.
The restaurant sings "It's A Wonderful World" during dinner, usually around 6-7 p.m. Join in on the fun!
Weekends are very busy so make reservations in advance or arrive early and prepare to wait.
The Palace Grill does not take reservations, so make sure you arrive at the restaurant early or prepare to wait.
This is Cajun/Creole food so things tend to be spicy. Ask if you are not sure of a dish.
Dress code is casual and the restaurant is kid-friendly.
Dinner entrées range from $22 – $35
Check their website for hours and menu options.
For great overnight lodging, stay at the AutoCamp Santa Barbara.
{Note: This is not sponsored content. All dining was paid by reviewer}