My family are big time coffee drinkers, so when we travel, we like to try out the local coffee shop scene at our destinations. On our recent trip for the solar eclipse, we visited many different coffee shops throughout Oregon, but these five places stood head-and-shoulders above the rest. These are our five favorite coffee houses in Oregon, and I think you will agree that they make a great cup of joe!
Five Favorite Coffee Houses in Oregon
Stumptown Coffee Roasters – Portland
When visiting Portland, you must visit Stumptown Coffee Roasters. They are considered one of the best coffee companies in the United States, and for good reason–their coffee is bold yet silky smooth, and their cold brew is insanely addictive. They direct source their coffee from international farmers and roast it in-house. Their signature blend, Hair Bender, is aptly named for its insane flavor profiles of chocolate, toffee, and clove, with a distinct earthiness that is all its own.
Stumptown has several locations in the Portland area; I've been to the downtown and Ace Hotel locations.
Sleeping Monk Coffee – Cannon Beach
Who would have thought a little beach town coffee shop would become my favorite coffee shop ever? I certainly didn't. We went to Cannon Beach to see Haystack Rock and stopped into Sleeping Monk to grab a cup on our way out of town. Oh my goodness. If I could live at Sleeping Monk, I would…and never sleep. This organic coffee is in a class of it's own – rich and creamy with the smoothest finish…pure ambrosia!
Sleeping Monk Coffee is located at 1235 W. Hemlock Street in Cannon Beach, Oregon
The Pony Espresso – Jacksonville
The Pony Espresso is a cute little drive-through coffee house on the main drag through Jacksonville, Oregon. We tried unsuccessfully to park for 10 minutes, then decided to go through the drive-through. What Pony Espresso lacks in parking, it makes up for in a great cup of coffee and delicious breakfast burritos. They use Allann Brothers, an Ashland-based roaster known for its robust flavor, for their beans.
Pony Espresso is located at 545 N. 5th St. in Jacksonville, Oregon
Mojo Coffee – Lincoln City
If you are cruising down Rt 101 along the Oregon coast, be sure to stop at Mojo Coffee in Lincoln City. They use Stumptown beans in their coffee, but somehow make the flavors all their own, especially their specialty drinks. My son and I had the Mayan Mocha, rich with chocolate and cinnamon (delightful!) and my husband enjoyed their iced coffee.
Mojo Coffee is located at 3565 NW Highway 101 in Lincoln City, Oregon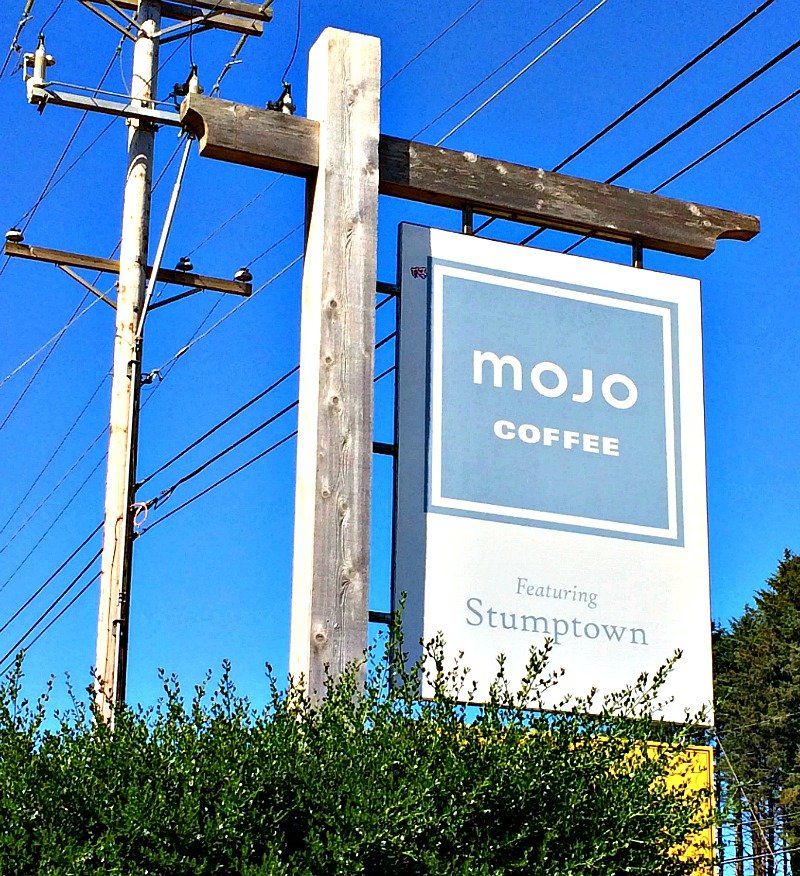 Green Salmon Coffee – Yachats
Yachats is known for its incredible coastal views and electric restaurants and shops, including Green Salmon Coffee. Green Salmon offers delicious organic fair trade coffee and tea, but they also have a collection of healthy vegetarian and non-vegetarian breakfast and lunch dishes and pastries. We were able to get a great cup of coffee and tasty breakfast to go.
Green Salmon Coffee is located at 220 Hwy 101 North, Yachats, Oregon
What are your five favorite coffee houses in Oregon? Let me know in comments below, so my readers have new places to visit! By the way, for more about our solar eclipse experience, read my article which will be featured in the Dec/Jan issue of Parks & Travel magazine…and for a delectable spiked latté, be sure to check out my recipe for Spiked Iced latté!