Langley Castle offers more than just an elegant lodging experience. Langley Castle Dining is a unique culinary adventure as well. During our stay, we had lovely meals, including afternoon tea and amuse-bouche in the drawing-room, and dinner and breakfast in the main dining room, Josephine's.
The drawing room is the main gathering place at Langley Castle, with plush sofas and easy chairs dotting the room, with colorful tapestries on the wall. We arrived just in time for afternoon tea, so freshened up in our room and came back to the drawing-room. We ordered the afternoon tea for two, which included a selection of tea sandwiches, scones, jam, and clotted cream, pastries, and choice of tea or coffee for £25 for the two of us.
Our freshly made tea sandwiches were cucumber and cream cheese, smoked salmon with creme fraiche, and ham with pease pudding. The scones were warm and fluffy and paired perfectly with the clotted cream and strawberry preserves. The pastries were small sweet cakes with frosting in the middle. We were disappointed that we did not get to choose our tea variety, but the basic tea that came with our meal was suitable.
Dinner
After a walk of the grounds and rest in our beautiful room, it was time for dinner. We again met in the drawing-room, where we were offered a beverage and complimentary amuse-bouche. Since I was traveling with my son, I chose not to imbibe, but Langley Castle boasts an impressive wine list, with wines from Italy, France, Chile, Argentina, South Africa, and Spain.
The server brought blue cheese mousse and crawfish cocktail for our appetizer. We loved the crawfish, which was boiled and served cool. The blue cheese mousse was creamy, with a pungent blue cheese taste.
When our table was ready, a server led us downstairs to Josephine's. The dining room was large, with about thirty tables scattered throughout the room, several placed in window nooks. We were led to one of the tables by the windows, a semi-private dining experience with the gorgeous castle walls enfolding us into the history of the building. We selected green salads and our main course from the menu, while a server brought us rustic honey-sunflower bread.
Our entrees looked and tasted exquisite! I savored the salmon steak with grilled tomato, mushrooms, watercress, a Bearnaise sauce, and skinny chips (fries), while my son enjoyed the Grilled Filet of Seabass with crushed potatoes, tomato, and chive beurre blanc.
Our fish was so fresh, one would think the staff caught it just prior to serving. The vegetables complimented the fish nicely, the chips were crunchy on the outside and pillowy-soft inside, and the sauces were light and buttery. The salad greens, brought with our meal were pleasant, though the dressing was so light, we barely tasted any flavor.
We heard a rumor that Josephine's is known for their desserts, so though we were full from dinner, we had to sample from the dessert menu. We ordered the vanilla cheesecake with champagne strawberries, and our after-dinner drink was a hot chocolate and a cafe mocha. While we waited for dessert, our server brought a selection of chocolates for us to nibble on.
The cheesecake was decadently creamier than we are used to in the United States, and the dish was delightful with the champagne-kissed strawberries.
My son enjoyed his hot chocolate, and my cafe mocha was a creamy blend of chocolate and espresso.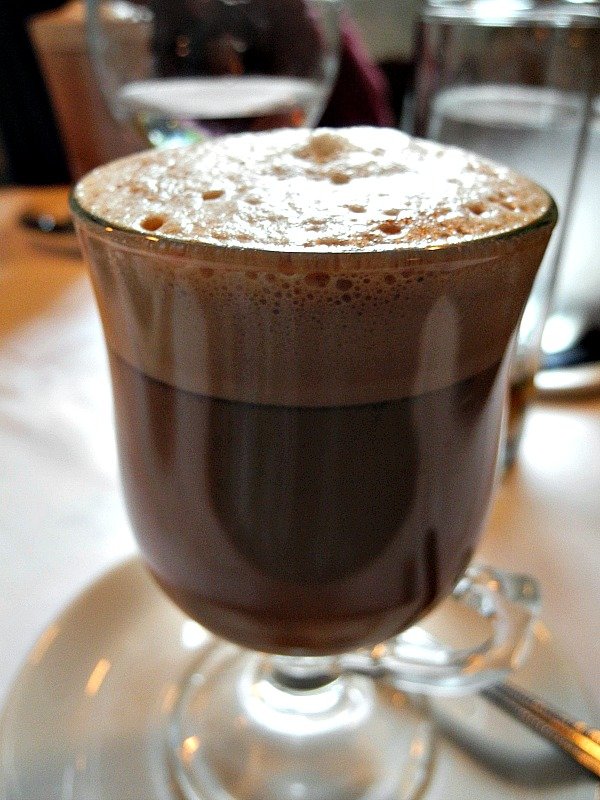 Satiated from such a lovely meal, we returned to our room to retire for the evening.
Breakfast
Langley Castle Dining would not be complete with enjoying the hearty breakfast options. The next morning, we went back downstairs to Josephine's for breakfast, which was included with our room rate. A table was set up in the center of the room with juices, trays of breakfast pastries, fruit, nuts, and yogurt. We had a choice of full English breakfast and other dishes, but my son and I, noting a sumptuous plate of Eggs Benedict served at another table, ordered the same for our entrees. We enjoyed fresh-squeezed orange juice, some pastries, and yogurt while waiting for our Eggs Benedict to arrive.
Our dish was worth the wait, as the Eggs were cooked perfect, the ham firm and slightly salted, and the Hollandaise sauce light and tangy. Though some hotels might cut corners on a complimentary breakfast, at Langley Castle, it was a pleasant gourmet experience.
At every meal we experienced at Langley Castle, the service was punctual yet relaxed, and our servers attentive to our every need. The only dislike of our entire stay was the lack of tea variety at afternoon tea; every other moment was carefully orchestrated to make our dining experience enjoyable. Langley Castle makes a great romantic gourmet weekend with a sweetheart or a fun adventure with a well-behaved teenager.
Visit here for our hotel accommodations at Langley Castle.
For more information about Langley Castle Dining, please visit their website. Be sure to visit their Castle Wedding page for romantic wedding ideas. You can also find Langley Castle on Facebook and Twitter.