The airport is usually just a means to an end for most travelers: the point A to a point B, or if the flight is a connection, a Point B to a Point C. Being at an airport usually involves rushing to catch a flight, long security lines, TSA pat-downs, flight delays and lots of stress. But what if there were a great reason to get to the airport early, stay after a flight, and enjoy that extra long layover? What if an airport was more than just a departure or connection city, but a gourmet destination? Don't believe it's possible? Here are five restaurants with delectable food and drink gourmet delights at Phoenix Sky Harbor International Airport that elevate airport dining to a whole new level!
Gourmet Delights at Phoenix Sky Harbor
Most travelers would not consider dining at the airport to be "pleasurable". A burger or slice of pizza from a fast food vendor between gates used to be the only option for busy travelers, but with travelers seeking healthier and more gourmet options, airports are upgrading the airport dining experience. What better way to introduce a traveler to the best a city has to offer than to showcase its most delicious and popular restaurants at the airport? Phoenix Sky Harbor International, in partnership with HMSHost is doing just that, offering travelers delicious gourmet food and drink options worth lingering at the airport for.
Chelsea's Kitchen/L'Grande Orange
The original Chelsea's Kitchen, located just off Camelback Rd in the Arcadia district, is consistently ranked as one of the top ten restaurants in Phoenix. The stylish casual eatery features gourmet comfort food, including short rib tacos, green chile burgers, and the best white sangria in Phoenix (my opinion). L'Grande Orange, also in the Arcadia district, is an upscale grocery/restaurant with fresh salads, sandwiches, and specialty pizzas.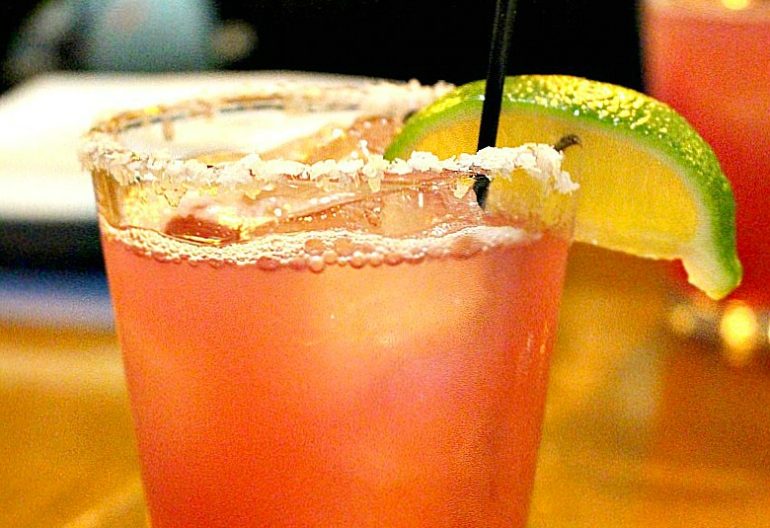 Chelsea's Kitchen/L'Grande Orange airport location features many of the same dishes as the original locations, with relaxed sit-down seating. Travelers can still get their pizza, but this is gourmet all the way. All pizzas, including L'Grande Orange's Mother Earth pizza, with olives, roasted peppers, artichokes, fennel, tomato, mushrooms, onion, broccolini, and cheese, are wood-fired, and available gluten-free, vegetarian, or vegan. Chelsea's Kitchen deviled eggs, guacamole and chips, and prickly pear margaritas take grabbing a bite at the airport to a whole new level!
Chelsea's Kitchen/L'Grande Orange is located in the center of terminal 4, before security. L'Grande Orange also has a post-security location in Terminal 4, D Gates.
Blanco Tacos + Tequila
Blanco Tacos + Tequila is a Fox restaurant concept, with locations in Tucson and Phoenix. Blanco Tacos + Tequila offers guests authentic south of the border dishes and cocktails, including their award-winning BBQ pork tacos with roasted corn and tomato slaw.
The airport Blanco Tacos + Tequila location, with over 150,000 visitors per day, offers the same delicious dishes, including Macheco tacos (with braised short rib), cheese crisp with guacamole, and nachos. (Psst: Psst! their guacamole is to die for! ) All cocktails are made with fresh fruit juices, including their famous blood orange margarita, making a bite and cocktail a fine dining experience.
Blanco Taco + Tequila is located in Terminal 4, A concourse near Gate 5.
Cowboy Ciao
Cowboy Ciao, the landmark Old Town Scottsdale restaurant, is as well known for its eclectic owner and chef, Peter Kasperski, as for its gourmet southwestern cuisine and extensive wine list. Open since 1997, Cowboy Ciao has hosted many of the hip and famous over the years, including Hillary Clinton, Eddie Van Halen, and George Clooney. Peter Kasperski, part chef + part rock star is a 40-year veteran of the restaurant industry, and hand selects many of Cowboy Ciao's over 2000 wines on the wine list.
Cowboy Ciao's airport location offers many of Cowboy Ciao's signature classics, including Tiger Prawns Elote and their famous Stetson Chopped Salad, with smoked salmon, corn, arugula, currants, and Israeli couscous. With a wine list almost as extensive as the Old Town Scottsdale location, travelers can experience airport wine tasting like never before. Cowboy Ciao Airport received the award for Best New Airport Restaurant in 2013 from Entrepreneur Magazine's Business Travel Awards.
Cowboy Ciao is located in Terminal 4, B concourse near gate 20.
Barrio Cafe
Considered one of the best Mexican restaurants in Phoenix, Barrio Cafe is as colorful and unique as it's owner/chef, Silvana Salcido Esparza. Nominated four times for the James Beard "Best Chef Southwest", Silvana was inducted into Arizona's Culinary Hall of Fame in 2004. Dining at Barrio Cafe, with its central/southern regional Mexican cuisine, is not just a meal, it is an experience.
The airport location features colorful murals and seating, a tequila tasting lounge, margaritas and cocktails, and the most delightful Mexican cuisine you will ever find in an airport (or almost anywhere!). Specialties include Chile En Nogala, a roasted poblano chile filled with chicken, apple, and pears in an almond cream sauce, finished with cilantro, pomegranate seeds, and queso fresco, and served with jalapeno mashed potatoes and sauteed vegetables. Don't forget dessert, with delicacies including the Churros Rellenos de Cajeta de Cabra – warm cinnamon churros with goats milk caramel, topped with vanilla ice cream and candied pecans. Oh my goodness!
Barrio Cafe is located in Terminal 4, D Concourse
HMS Host Airport Dining
HMSHost is the world's largest provider of traveler food and beverage services, operating in over 120 airports worldwide. Innovative approaches to airport dining include rotating food trucks at Los Angeles International airport, and a hydroponic urban garden at Chicago's O'Hare International airport, with vegetables and herbs available for the in-airport restaurants. Concept bars and restaurants, including sports fan bars, such as The Dallas Cowboys Club at Dallas International Airport, and Dale Jr's Whiskey River in Charlotte International Airport, elevate traveler's airport experience. HMS operates nineteen food and beverage vendors in the Phoenix Sky Harbor Airport, including Chelsea's Kitchen/L'Grande Orange, Blanco Tacos + Tequila, Cowboy Ciao, and Barrio Cafe.
I was hosted for a tasting at Phoenix Sky Harbor, but my opinions are my own.