Chocolate lovers unite! This Wicked chocolate bundt cake recipe with rich dark chocolate ganache glaze is so deliciously rich and easy to make, it's sinful! Honestly, it is the best chocolate bundt cake ever! Even better? It's not a box mix, it's 100% homemade, but it doesn't take any more time to make than mixing up a box mix. I'm talking seriously simple, you will never make boxed chocolate cake again.
We don't have cake very often in this house. My husband is a cookie fiend and will almost always want cookies over cake. Seriously, there isn't a cookie he's met that he doesn't like. Because of this cookie obsession, it's hard to make other kinds of desserts. Fortunately, he does have a passion for chocolate that rivals his cookie obsession, so I know whatever chocolate cake I make, whether it's my depression cake or this Wicked Chocolate Bundt Cake, he will love it. And love it he does!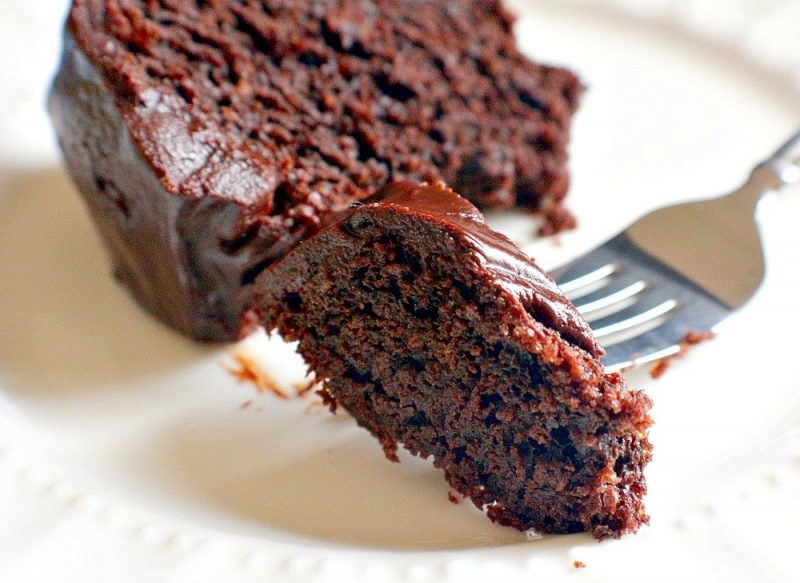 What exactly is Wicked Chocolate Bundt cake? It's a rich and fluffy chocolate cake with a decadent chocolate ganache glaze. I know what you're thinking…it looks hard to make. Right? Nope. Nope, nope, nope nope. All the nopes. This cake takes 15 minutes to whip together, 35 minutes in the oven, another 7 minutes to make the glaze, and 5 minutes to drizzle the glaze on the cake. Honest, it's super easy! This is exactly why I call this cake wicked because it's sinfully delicious and wickedly easy to make!
A few things to note before you get started:
Use real Dutch-process cocoa powder for the best flavor.
Use grass-fed butter to maximize the nutrients.
Use semi-sweet chocolate chips for the ganache glaze. Dark chocolate chips will be too overpowering.
If you don't have cake flour, use 2c. all-purpose flour and 1/4 c. of corn starch, mixed together
The reason I use melted butter and oil together is to create a moist cake with a superior taste. If you want to use one over the other, use oil as the cake will be denser with all butter.
As the glaze cools, it gets thicker, so work fast while drizzling it over the top of the cake. If it gets too thick, put it in the microwave for about 8 seconds to soften again.
Wicked Chocolate Bundt Cake
For the Bundt Pan
Softened butter to butter the bundt pan
1 Tbsp. Unsweetened cocoa powder
1 Tbsp. Espresso Powder
For the Cake
1 1/2 c. White Sugar
1 c. Unsweetened Dutch Processed Cocoa Powder (I use Guittard's)
2 1/2 c. Cake Flour
2 tsp. Baking Powder
1 tsp. Baking Soda
1 tsp. Salt
2 Eggs
1/4 c. Melted Butter
1/4 c. Vegetable Oil
1 c. Buttermilk
1 c. Hot Brewed Espresso
1 tsp. Pure Vanilla Extract
1 c. Mini Chocolate Chips
Chocolate Ganache Frosting
1 c. Heavy Cream
3/4 c. Semi-Sweet Chocolate Chips
1/8 tsp. Brewed Hot Espresso
Preheat the oven to 350 degrees. Butter a bundt cake mold. Mix the 1 tablespoon of cocoa powder with the 1 tablespoon of espresso powder and powder the bundt pan with cocoa/espresso powder mixture, shaking out the excess powder. Whisk the eggs, butter, oil, and buttermilk in a bowl and set aside. Mix the dry ingredients together in a mixing bowl. Add the egg mixture and mix using a kitchen mixer for 2 minutes. Add the espresso and vanilla and blend for about a minute more. Pour the batter into the bundt pan and sprinkle the mini chocolate chips over the top, lightly pressing into the top of the batter. (The chocolate chips will sink into the cake as the batter bakes.) Bake in the bundt pan in a heated oven for 35-40 minutes. Check for doneness with a cake pin or toothpick. If it comes out clean or with dry crumb, the cake is done. Remove from the oven and let cool for 10 minutes. Gently flip the cake out of the bundt pan onto a cake plate.
Place the heavy cream in a small saucepan and heat to boiling over medium-high heat. When the cream boils, immediately remove from the heat, add the chocolate chips and espresso, cover the pan with the lid, and let sit 2-3 minutes. Remove the lid and whisk the chocolate into the cream until velvety smooth. Drizzle the glaze over the top of the cake, as little or as much as you want.
Isn't this Wicked Chocolate Bundt Cake wickedly delicious?!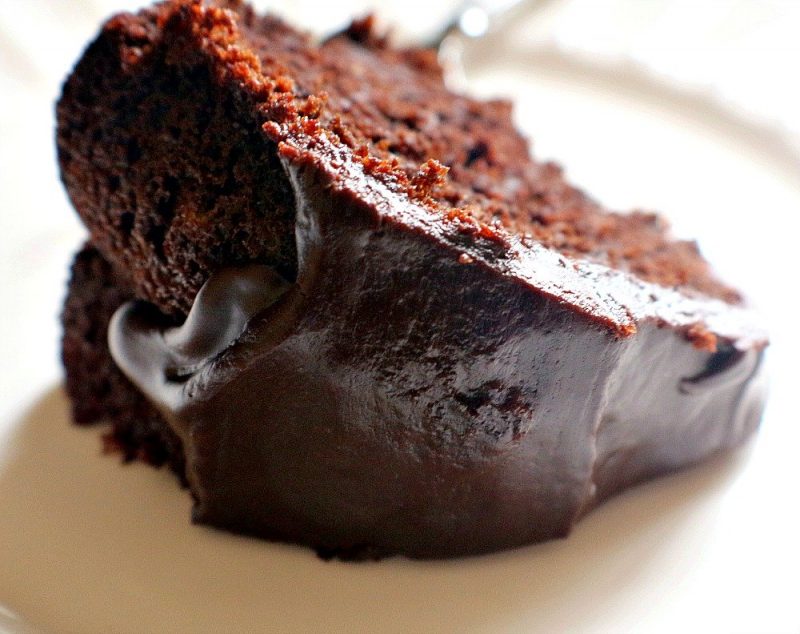 A few tips to make this extra wicked.
Add chocolate chips to the batter.
Drizzle some raspberry glaze over the top.
Whisk up some fresh whipped cream to dollop on this.
Need another decadent idea? Try this Decadent Flourless Chocolate Espresso Torte. or this Italian Lemon Almond Olive Oil Cake.