This is not your grandmother's Thanksgiving green bean casserole…it's even better! This Cheesy Green Bean Casserole is creamier, with even more flavor from the addition of cheddar cheese, bacon, and fresh green beans. The traditional recipe is good, but this one is insane!
The original green bean casserole was created by the Campbell's soup company in 1955 and quickly became one of the most popular foods in America. The inspiration for the dish was "to create a quick and easy recipe around two things most Americans always have on hand in the 1950s: green beans and Campbell's Cream of Mushroom Soup." Since that time, it is one of the most popular vegetable dishes ever, and a traditional part of the Thanksgiving meal for many families. The recipe is so iconic that in 2002, the creator of the recipe, Dorcas Reilly, presented the original recipe card to the National Inventors Hall of Fame!

Cheesy Green Bean Casserole
This new recipe pays homage to the original recipe but with fresh onions and mushrooms, cheddar cheese, and crispy bacon. So much flavor packed into one little spoon of yumminess!
1 Tbsp. Butter
1/4 c. Fresh Shallot, chopped fine
1/2 c. Fresh Onion, sliced thin
1 c. Fresh Mushrooms, Sliced
1/2 can of Campbell's Golden Mushroom Soup
1/2 c. Heavy Cream
2/3 c. Milk
1 lb. of Fresh Green Beans
1/3 c. French's Fried Onions
1 c. Shredded Cheddar Cheese
2-3 Slices Bacon cooked crispy, then crumbled
2-3 Shakes of Black Pepper
Preheat oven to 350 degrees. Melt butter in a small frying pan over medium low heat. Finely chop the shallot and add to the butter, saute for 1-2 minutes, then add the sliced onion and mushrooms and saute for 3-4 minutes until soft. Remove from the heat and set aside.
Clean the ends off the green beans and steam ithe microwave for 2-3 minutes with a little water. Drain the string beans. In a large bowl, mix together the mushroom soup, heavy cream, milk, garlic, onions, and mushrooms, green beans, 1/2 c. of the cheddar cheese, and crumbled bacon. Butter a large baking dish then add the green bean mixture. Put the french fried onions in a small baggie and crush with a rolling pan. Mix together the fried onions and other 1/2 cup of cheddar cheese and sprinkle over the top of the casserole. Cover with aluminum foil and bake 30 minutes, then remove the aluminum foil and Bake an additional 15 minutes, until bubbling. Remove from the oven, and allow to set for about five minutes, then serve immediately with these Praline Crunch Sweet Potatoes!
Note: This recipe originally appeared on A Cork, Fork, & Passport in November, 2010 but wasn updated to an even better recipe in November, 2016.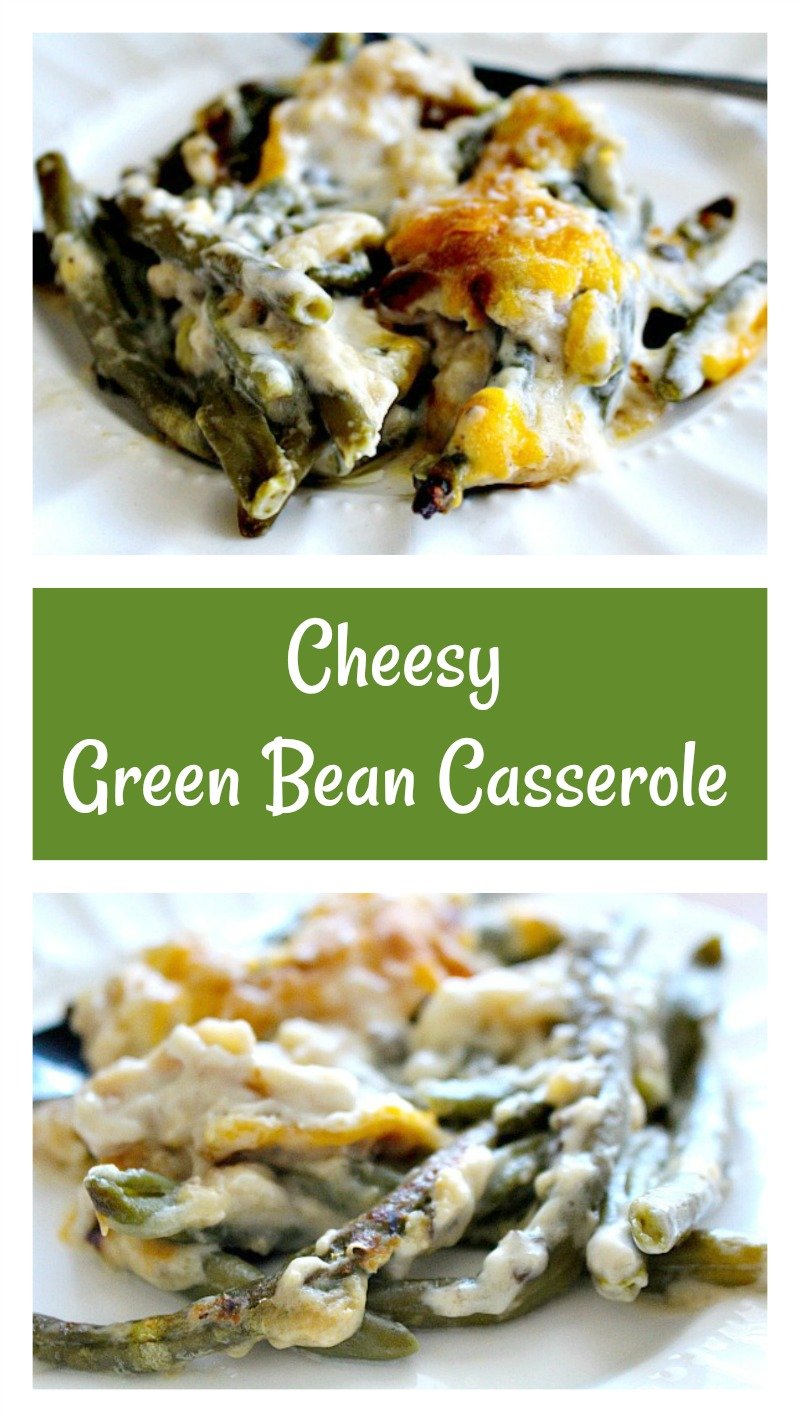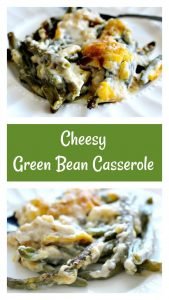 Need more Thanksgiving ideas?
Save
Save
Save
Save
Save
Save