It's officially fall, which means it's chocolate chip pumpkin bread time! I know what you are thinking…there are so many pumpkin bread recipes on the internet (so, so many), but I promise this is one of the best recipes you will ever make. I repeat: this is the most amazing chocolate chip pumpkin bread you will ever make! (Putting away my bullhorn…)
Insanely decadent, this chocolate chip pumpkin bread is moist and fluffy, with real pumpkin taste, but is not overloaded with too much spice. For extra OMG, there is a healthy dose of chocolate chips nestled inside (Is there such a thing as an unhealthy dose of chocolate chips?) This recipe has been tested in our "test kitchen" over and over and then test-tasted by family and friends. It is a winner!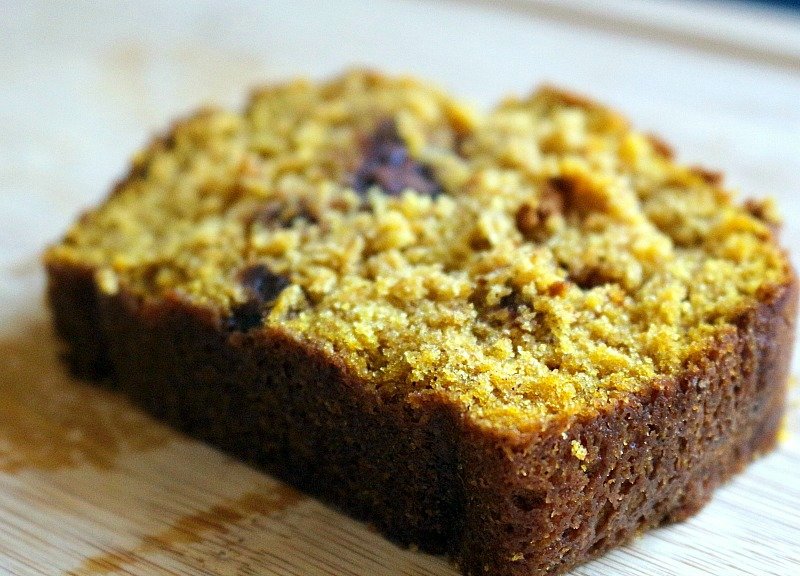 I made a batch last weekend and it is already gone! Two loaves went to my son at college and two to my Dad in Florida, and they have already eaten them and are asking for more. The other two? My husband and I devoured! Fortunately, this recipe is as easy as it is delicious–it only takes about 15 minutes to whip up (as long as you soften the butter ahead of time) and then another 40 minutes in the oven. Guess what I will be making this weekend…more Chocolate Chip Pumpkin Bread!
Hint: With the holidays coming, this pumpkin bread makes a great gift. Just wrap these little beauties in cellophane paper and tie with a bow.
Healthy Substitutions
I tweaked the recipe to make it healthy, but if you want it even healthier, please use the following substitutions:
Grass-fed butter: I no longer use regular butter because grass-fed butter is good for your brain and has more nutrients. If you do not wish to use butter at all, you can use coconut oil, olive oil (regular blend, not extra-virgin), canola oil, or unsweetened yogurt. If you use canola or yogurt, I suggest you only substitute half the butter out because it will affect the taste and the texture.
Eggs: If you do not wish to use poultry eggs, you can substitute with flaxseed "eggs"
Flour: I used 2/3 unbleached regular flour and 1/3 almond flour. If you do not want to use a wheat-based flour, use a combination of almond and quinoa or oat or brown rice flour. I do not recommend using coconut flour as it will make your loaves too dry.
Sugar: I use a combination of brown sugar and coconut sugar in this recipe but you can also use coconut sugar in place of the brown sugar too. You can use honey as well, but I suggest substituting only one cup of honey and the coconut or brown sugar for the remaining sugar.
Apple Cider: Use pure apple cider or apple juice. In a pinch, you can use oat milk but coconut or almond milk will make your chocolate chip pumpkin bread denser.
Vanilla Extract: Use pure vanilla extract. If you cannot find pure vanilla extract, use vanilla paste. (See my link below)
Chocolate Chips: You can use milk chocolate chips but semi-sweet or dark chocolate chips complement the pumpkin flavor better.
Spices: Use Ceylon cinnamon if you have it available, but any good cinnamon will do. I also use pumpkin pie spice in this recipe but if you do not have pumpkin pie available, substitute with 1/8 tsp. of ground ginger, 1/8 tsp of ground nutmeg, and 1/8 tsp. ground clove.
Chocolate Chip Pumpkin Bread
For another tasty fall treat, try my chocolate chip pumpkin donuts, Pumpkin Spice Latte Scones, or Chocolate Chip-Toffee Pumpkin Bars. If you like coffee with your treats, try this Homemade Pumpkin Spice Creamer!