Looking for a last minute appetizer, but don't want to spend a lot of time in the kitchen? These Easy Brie & Pepper Jelly Bites are simple to make, festive, and oh-so-delicious! Easy Brie & Pepper Jelly Bites allow the brie to melt into a warm, creamy appetizer, and the pepper jelly gives it a spicy-sweet flavor, but if you prefer no spice, substitute raspberry or apricot jam in place of the pepper jelly.
Known as the "king of cheeses" brie has a flavor and texture people either like…or don't. Soft and creamy, brie tends to have a mushroom-like flavor, but can be pungent if the rind is not trimmed away. Brie usually comes in a large round wheel with the rind still attached, but sometimes you can find brie logs in your grocery cheese case, with the rind already trimmed off. If you do not like the pungent taste, just trim off the rind!
Easy Brie & Pepper Jelly Bites
1 Package Mini Filo Shells (15 per package)
1 Wheel of Brie
1 Jar Red Pepper Jelly (Found in the jelly/jam section of your local grocery, or use Apricot Jam)
Note: The mini filo shells are already baked, so no need to pre-bake before adding the brie. You can find these in the freezer case at most grocery stores. Preheat the oven to 350 degrees. Place the filo shells on a baking sheet. Cut the wheel of brie in half and trim the rind from the brie. Cut the brie into small pieces, about 1 inch x 1 inch. Place a piece of brie in the center of each filo shell.
Scoop about half a teaspoon of pepper jelly on top of the brie pieces. Place the baking sheet in the oven and bake about 4-5 minutes. Remove from the oven and allow to cool about 2 minutes, then serve.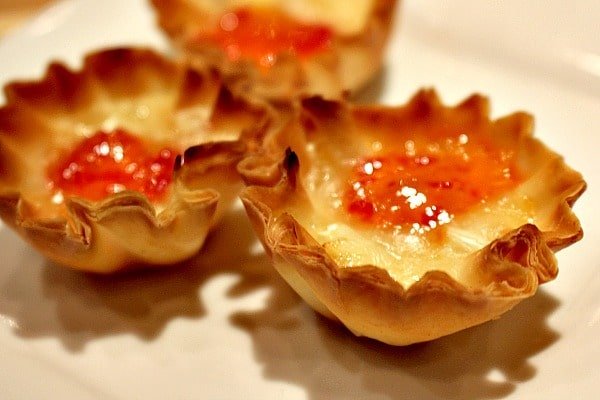 Save
Save
Save