Autumn is in full swing now, with leaves falling, pumpkins and apples ready for picking, the crisp, cool smell of fall in the air, and pumpkin spice everywhere (especially in this Pumpkin Spice Latte Granola).
Wait a minute, hold the phone!
I live in Arizona. We do not have leaves falling, at least not where I live. It is definitely cooler, but we do not get the crisp cool air like we did when I was growing up in upstate New York. We do have pumpkins and apples, but they are imported from somewhere else.
Since I do not the luxury of a "true" Autumn here in Arizona, I have to bring fall to me with fall-inspired recipes such as this homemade pumpkin spice latte granola. Mmmm. Cinnamon, nutmeg, creamy pumpkin. This granola is Autumn in a bowl!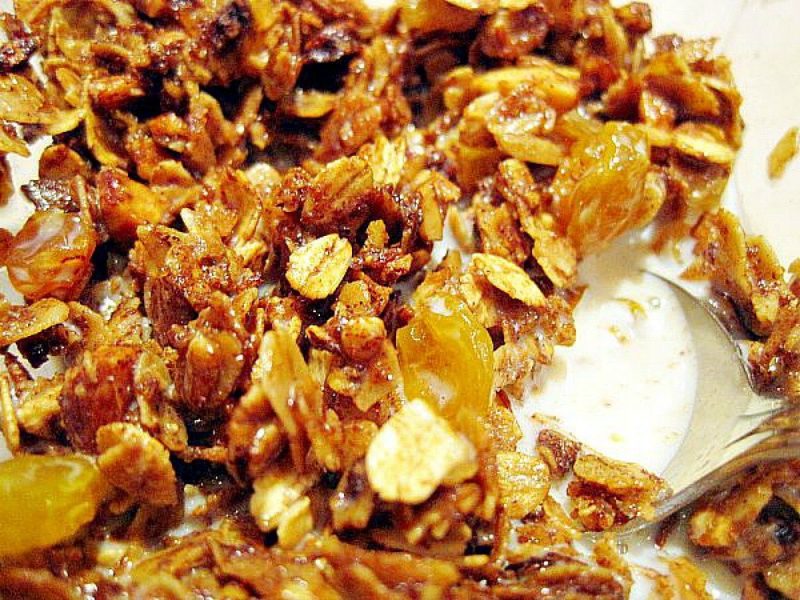 The granola is easy to prepare, and since you make it yourself, you control the amount of sugar and fat in it, and using a natural sugar such as honey or maple syrup is a healthier option with more nutrients. This homemade pumpkin spice latte granola makes a perfect Mediterranean Diet breakfast treat, especially with the protein-packed almonds and pepitas, just drizzle a little almond milk or greek yogurt!
Pumpkin Spice Latte Granola
3 c. Rolled Oats
1/2 c. Chia Seeds
1/2 c. Chopped Raw Almonds
1/2 c. Chopped Raw Pepitas (Pumpkin Seeds)
¼ tsp. Cinnamon
1/4 tsp. Sea Salt
2 tsp. Pumpkin Spice Mix (You should be able to find this in the spice aisle)
½ c. Chopped Fresh Almonds
3 Tbsp. Avocado Oil
2 Tbsp. Pumpkin Puree
1/3 c. Honey
2 Tbsp. Brewed Espresso
½ c. Golden Raisins or Dried Dates
Preheat oven to 250 degrees. Mix the oats, chia seeds, cinnamon, and salt together in a large bowl.
Chop the nuts in a food processor, only pulse for 1-2 seconds, as you want larger pieces of almond and pepitas. Do not chop fine-you want to see the chunks in the granola.
Mix the almonds and pepitas into the oats, and add the pumpkin spice mix. In a small bowl, mix the oil, honey, pumpkin puree, and espresso. Stir into the oat mixture until the oats are completely coated. Spread the oats in a thin layer on a foil-lined cookie sheet. Bake in the oven for 40-45 minutes, stirring every 10 minutes. Remove from the oven and cool. Pour into a sealed container to store.
(This recipe was originally featured on 8/20/14 but was updated to make it even healthier on 10/20/19.)
Save