Valentine's Day looks a little different this year. More people are staying home to social distance rather than going out to a restaurant. And while I absolutely advocate for supporting small local restaurants, as a home chef, I also wanted to offer some great options for those who want to create their own gourmet dinner at home. If you need a little help, I have you covered with this Romantic Four-Course Dinner at Home with a menu and recipes. You can create a gourmet dinner for (or with) your love for Valentine's Day or any time you want a romantic dinner for two.
(I received a sample of the Prazo de Roriz wine but all opinions and recipes are my own.)
Romantic Four-Course Dinner at Home
This menu is broken down into four different courses, including an appetizer, soup, main entrée, dessert, and even a wonderful wine suggestion to pair with dinner. I will have tips for ingredients and ways to make the task of cooking easier. If you have any questions, please reach out, I have made these dishes many times.
Appetizer:
Spinach Artichoke Stuffed Mushrooms
These mushrooms are flavorful and a bit healthier than traditional stuffed mushrooms. If you are not a fan of mushrooms, create a charcuterie platter with a variety of cheeses, meats, nuts, and fruit.
Tip: These are best made fresh but you can stuff them earlier in the day.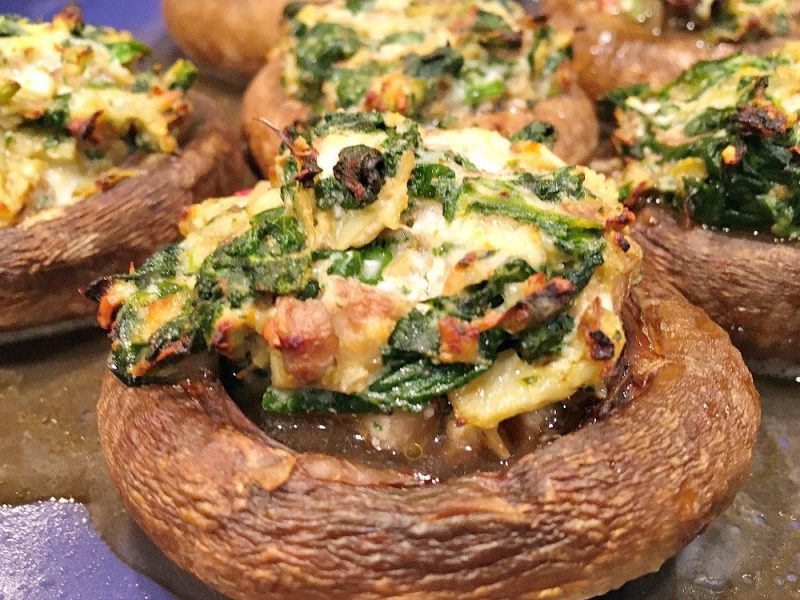 Soup:
This French onion soup is delicious on its own or as a pre-dinner appetizer. Bonus: The recipe makes a batch for four, so freeze the leftovers for another meal.
A few tips:
Cut the onions and soak them in the brandy overnight before making the soup.
Cut the bread earlier in the day and toast it ahead of time.
Entrée:
This dish is hearty and flavorful. You can prep the short ribs earlier in the day by chopping and sauteing the vegetables, drenching the ribs in flour, and searing them. About three hours before dinner, finish blending the rest of the ingredients and pop the dish in the oven to slow cook. Don't worry about the alcohol content, it is cooked out while roasted. You can also make this dish in a slow cooker but cook on high for about six hours before serving so they are fall-apart delicious!
A few tips:
Use meaty boneless ribs if you can find them. Ask your butcher to trim most of the fat off but leave a bit of fat to add flavor to the "gravy".
Chop the veggies the day before to save some time.
Serve with egg noodles or mash potatoes, a salad, and homemade bread.
Dessert
Flourless Chocolate Espresso Torte
This is a perfect finish to an incredible meal. Garnish with a dollop of fresh whipped cream and some berries. This can be made a day ahead of time and you can whip the cream in advance too.
Tip: Make your own raspberry glaze to drizzle on the torte by blending 3-4 teaspoons of raspberry jam with 1 teaspoon of lemon juice.
Wine:
Prats + Symington's 2017 Prazo de Roriz
I've long been a fan of Portuguese wines and this is one of my new favorites! The Prats + Symington's Prazo de Roriz is a Douro Valley red wine blend, perfect for pairing with roasted and grilled beef dishes. Bold fruit-forward flavors of raspberry and cherry compliment the tangy flavor of the ribs. The wine is aged in a combination of French oak barrels and stainless steel, giving a clean but peppery-smoke finish to the wine. I found this wine locally at Total Wine but you can also purchase it from several online retailers. The 2017 Prazo de Roriz received a 90 rating from Wine Enthusiast and an 89 from Robert Parker and is ready to drink now!
Let me know how your dinner went! If you want to print a menu for the evening, I made a Valentine's Day printable menu for you here.