Nothing says summer better than a bowl of colorful fresh juicy fruit and this Mediterranean Fruit salad recipe celebrates all those summer flavors in the most delicious way, whatever time of year you make it! Juicy watermelon, strawberries, pineapple, blueberries, oranges…whatever fruit is in season, tossed in a tangy citrus dressing makes a healthy snack or side dish I've also added fresh peaches, cherries, honeydew melon, and grapes to the salad, depending on my mood.
Scooped into individual dishes, the salad is topped with a small dollop of nonfat yogurt (Greek adds a nice tang), a handful of sliced almonds or pistachios, and a drizzle of honey. Just thinking about it makes my mouth water! Refreshing, easy to make, and chock full of healthy ingredients, this Mediterranean Fruit Salad can be served as a healthy Mediterranean Diet friendly side dish, main dish, or dessert, the best fruit salad you will ever have!

Mediterranean Fruit Salad
Growing up in upstate New York, I had the luxury of fresh fruit most of the year, but especially in the summer. Years ago, when I was young and carefree, a friend (Kathy) and I would get together every Saturday to hang out on my roof (I had a flat roof outside my apartment bedroom window) to talk and sunbathe. Part of our ritual included a takeout order from the local Lebanese/Mediterranean restaurant with this Mediterranean Fruit Salad and a few dolmades (stuffed grape leaves). Ah, the life of no responsibilities, when the only thing I had to worry about was tipping the delivery guy. I don't have the luxury of sunbathing every Saturday anymore or even hanging with a friend and doing nothing, but a few bites of this fruit salad takes me right back to those carefree summer days.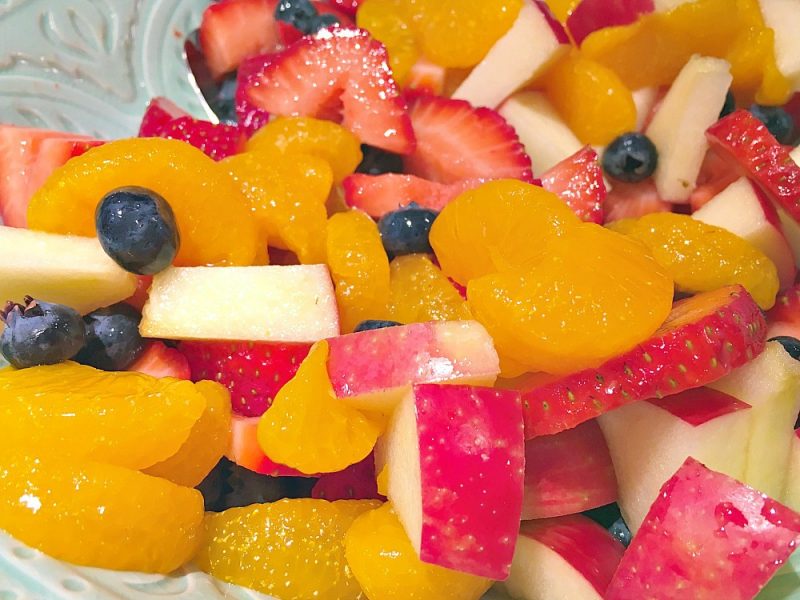 Since yogurt is a healthy protein, I will sometimes have this for breakfast as part of my Mediterranean diet way of eating (WOE). Sometimes my husband and I will also eat this as a side dish with dinner, but Mediterranean fruit salad also makes a pretty addition to a summer picnic table. Set the yogurt and almonds out in small serving dishes, along with the bottle of honey, and let people help themselves.
This fruit salad goes perfect with Cornell/Brooks BBQ chicken!