Being a movie buff, I love all kinds of movies, but being a cook, I am partial to movies that in some way involve cooking. I watched It's Complicated (Meryl Streep, Alec Baldwin) last night for about the fifth time-I love this movie! Not only do I enjoy the movie for its sweet and hysterical look at life as a divorcee, but I also love the fact that Meryl's character, Jane, lives in a beautiful home in Santa Barbara and has her own bakery/restaurant (my dream come true). The scene where she makes homemade chocolate croissants with Steve Martin's character, Adam? Oh my! I can completely envision myself doing the exact same thing….well, maybe not with Steve Martin, but you know what I mean. After the movie ended, it got me thinking….what other romantic comedies are favorites, especially ones that involve cooking? The following is a list of my Five Favorite Romantic Cooking Movies (in no particular order). What are some of your favorite romantic cooking movies?
1. It's Complicated: Meryl Streep, Alec Baldwin, and Steve Martin.
From the movie, It's Complicated
Meryl Streep (Jane) owns a bakery in Santa Barbara, and is romantically pursued by both her ex-husband Alec Baldwin (Jake) and her architect, Steve Martin (Adam). It's hilarious, sweet, and delicious…Jane makes both chocolate croissants and Croque Monsieur…and her kitchen? Oh my goodness, I swooned the first time I saw it!
2. Chocolat: Johny Depp, Juliette Binoche, Alfred Molina, and Carrie Ann Moss
From the movie, Chocolat
This is such a beautiful movie about friendship, love, and of course chocolate, lots of chocolate! Although it was nominated for five academy awards, and won many others, it is a relatively obscure film. Johny Depp, as the mysterious Roux, is at his hunkiest, but it's the chocolate confections, and the "magic" that they hold, that really caught my eye!
3. Because I Said So: Diane Keaton and Mandy Moore.
From the movie, Because I Said So
Mandy Moore (Milly) runs a catering business, and Diane Keaton (as Milly's Mom Daphne) tries to run Milly's love life, while she runs a bakery/cake design business. I don't know if its the fact that Milly has a beautiful catering business, or gets to kiss Tom Everett Scott, but I love this sappy little movie! The scene where Daphne gets caught kissing? Hilarious!
4. Julie and Julia: Meryl Streep, Stanley Tucci, and Amy Adams
From the movie Julie and Julia
Oh look, another Meryl Streep film, why am I not surprised! Amy Adams is great as Julie, a food blogger who re-creates Julia Child's recipes, but it is Meryl's role as Julia Child, which makes this movie so unforgettable. This movie is romantic, not just because it features Julia Child's love affair with cooking, but also because it shows the sweet life-long love and respect between her and her husband, Paul.
5. Big Night: Stanley Tucci, Tony Shaloub, Minni Driver, and Isabella Rossalini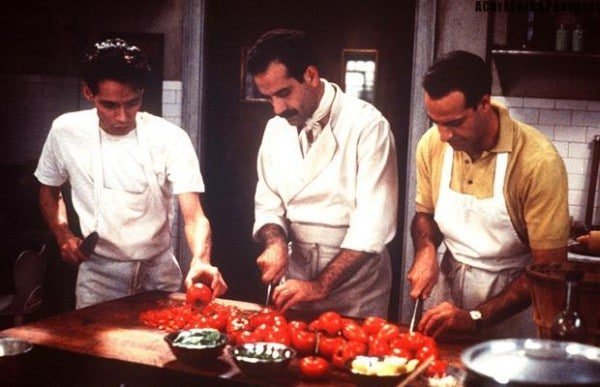 From the movie, Big Night
Stanley Tucci, as Secondo, and Tony Shaloub, as Primo, play two brothers who run a small, struggling Italian restaurant in New Jersey. The delicate dance between the relationships of the characters coincides with the dance of creating culinary masterpieces, and the outcome is beautifully bittersweet.
Update: I have a new favorite! One Hundred Foot Journey, directed by Lasse Holstrom, produced by Steven Spielberg, Oprah Winfrey, and Juliet Blake, and starring Helen Mirren is a wonderful edition to this list! This new film celebrates the passion for good cooking, and a passion for life. Come see my review here https://acorkforkandpassport.com/a-delicious-one-hundred-foot-journey-movie-review/
What are some of your favorite culinary romantic comedies? Do you have any to add to my list? If so, let me know!