Winter Ragu Bolognese with Butternut Squash Gnocchi
(This post was sponsored by Better Than Bouillon as part of an Influencer Activation for Influence Central and all opinions expressed in my post are my own.)
I'm not going to lie, this is one of the best dishes you will ever make/eat in your entire life. I'm not bragging, it is truly that good. Hearty yet elegant, savory and oh so delicious, this Winter Ragu Bolognese with Butternut Squash Gnocchi, made with Better Than Bouillon, makes an excellent Christmas or New Year's Eve dinner, especially if you are hosting guests. Don't let the lengthy recipe scare you though, it's a labor of love and does take a bit of work, but I have a few tips to make it more manageable.
I love incorporating winter squash into recipes this time of year. Butternut squash, acorn squash, spaghetti squash, and other squashes are not just tasty and filling, they are low calorie and nutritious, with fiber, calcium, potassium, and Vitamins A & C. This Winter Ragu Bolognese with Butternut Squash Gnocchi recipe incorporates roasted butternut squash in both the bolognese and the gnocchi.
Better Than Bouillon
What is Better Than Bouillon, you ask? Better Than Bouillon is a seasoned paste concentrate equivalent to a broth or bouillon cube (but so much better!!) used to enhance the flavor of culinary dishes. Think of it as a top-secret flavor bomb, just one spoonful is all you need to make your recipes taste even more incredible. Better Than Bouillon comes in several varieties (including organic) to make your holiday meals truly gourmet, including Roasted Chicken, Roasted Beef, Roasted Garlic, Turkey Base, Mushroom Base, and more.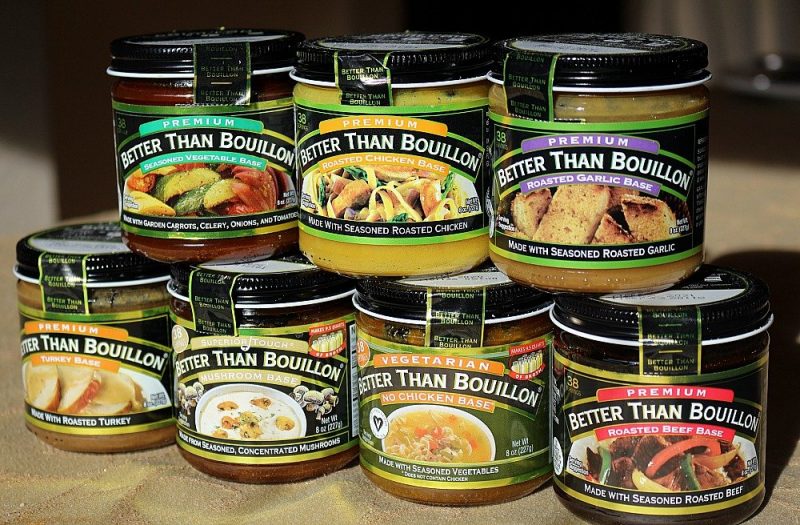 There are also several vegetarian and vegan varieties, including Vegetarian No Beef Base, Vegetarian No Chicken Base, and the Seasoned Vegetable base that I use in my Winter Ragu Bolognese. Although I still use a variety of vegetables in my bolognese, the Seasoned Vegetable base that adds a "cooked all day" kick of flavor that normally only comes from hours of simmering. But let's be honest, during the holidays, who has time for hours of simmering? Not me!
Another bonus? In my quest for healthier living, Better Than Bouillon is my secret weapon. A little goes a long way to boost the flavor of my dishes and the flavor pastes are low-calorie, low-sugar, and low-saturated fat. They even have low sodium varieties for those watching their sodium intake. I use Better Than Bouillon to enhance the flavor of many of my dishes, including soups, gravies, and casseroles, but I especially use it during the holidays when I want to spend less time in the kitchen and more time with family and friends.
Give Better Than Bouillon a try for your recipes, you will be pleasantly surprised!
This is an original recipe with a rich and savory Italian meat sauce. The traditional bolognese is made with beef and pork, but my recipe is made with ground turkey to lower the calories and fat, plus lots of fresh vegetables, wine, and cream. I incorporated Mediterranean seasonal flavors of cinnamon, nutmeg, and sage into both the sauce and the gnocchi to make it extra flavorful. The butternut squash gnocchi are light and airy pillows of pasta made from roasted butternut squash. The gnocchi pairs well with the hearty ragu sauce to make a warm and comforting winter holiday meal.
Serve this Winter Ragu Bolognese with Butternut Squash Gnocchi with marinated olives, a salad, a nice crusty bread, and a few bottles of fine red wine for an elegant gourmet meal to rival a five-star restaurant. For more holiday ideas, check out the Better Than Bouillon holiday site!