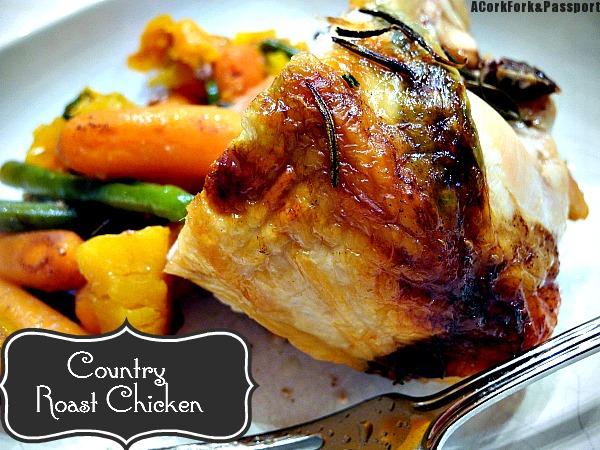 Country Roast Chicken is such a simple dinner to make, but oh so good! You start with farm fresh carrots, green onions, string beans, butternut squash, and celery, then add chicken glazed with an herb butter. Roast it in the oven, serve with biscuits, and you have a hearty one-pot meal to satisfy your whole family!
Country Roast Chicken
4 Bone-in Chicken breasts (With the skin)
4-5 sprigs fresh sage
4-5 sprigs fresh rosemary
2-3 cloves, garlic, peeled
1 stick of butter
5-6 whole carrots
1/2 c. Fresh Green Beans
1/2 c. Peeled and Cubed Butternut Squash
1/2 Sweet Onion
2 Tbsp Balsamic Vinegar
Salt and Pepper to taste
Preheat the oven to 375 degrees. Line a roasting pan with foil for easy cleanup. Rinse and pat dry the chicken breasts and set aside. Wash the sage and rosemary and pat dry. Remove the leaves from 2-3 of the sage and rosemary sprigs. Put the stick of butter in a food processor, add the sage, rosemary, and garlic. Pulse until blended. Put the herb butter mixture in a small dish.
Wash and scrub the carrots, but do not remove the peel. Cut the green ends off the carrots and chop into medium chunks.
Slice the onion and wash and take the ends off the green beans. Place the carrots, green beans, butternut squash, and onion in the bottom of the roasting pan, and pour the balsamic vinegar over the vegetables.
Place the chicken breasts atop the vegetables. Lift the skin of the chicken and smear a little bit of the herb butter under the skin of each breast. Smear a but more of the herb butter over the top of each breast, but do not use all the herb butter, set the remainder aside. Sprinkle salt and pepper over the top of each breast.
Place the chicken on the middle rack of the oven and roast for approximately one hour. Periodically smear a little bit more herb butter over the top of the chicken while it is roasting, and remove the aluminum foil the last 15 minutes of cooking to crisp the skin. When the chicken is finished cooking, remove from oven, let sit on the counter for about 10 minutes to set the juices before eating, and place the vegetables in a separate bowl for serving.