This is a sponsored post written by me on behalf of Riondo Prosecco. All opinions are 100% mine.
I am officially declaring the Passion Fruit Pineapple Prosecco Sour the official summer cocktail of 2018! This cocktail, made with Riondo Prosecco, tastes like summer in a glass. It is light and fruity, with a fizzy base and creamy finish.
Riondo Prosecco
Riondo Prosecco, an authentic italian sparkling wine, is perfect for summer sipping by the pool or an elegant evening with friends. Did you know Riondo is the #1 selling prosecco in Italy! The crisp light taste of apples, pear, and acacia blossom with a persistent effervescence is delightful on its own or combined in a cocktail with summer flavors of peach, raspberry, or passion fruit. The Riondo Prosecco bottle features a twist top, making it easy to take to the beach or on a summer picnic. August 13th is National Prosecco Day and Riondo is the official prosecco of National Prosecco day. So grab a bottle, mix up a few of these Passion Fruit Pineapple Prosecco Sours, and celebrate!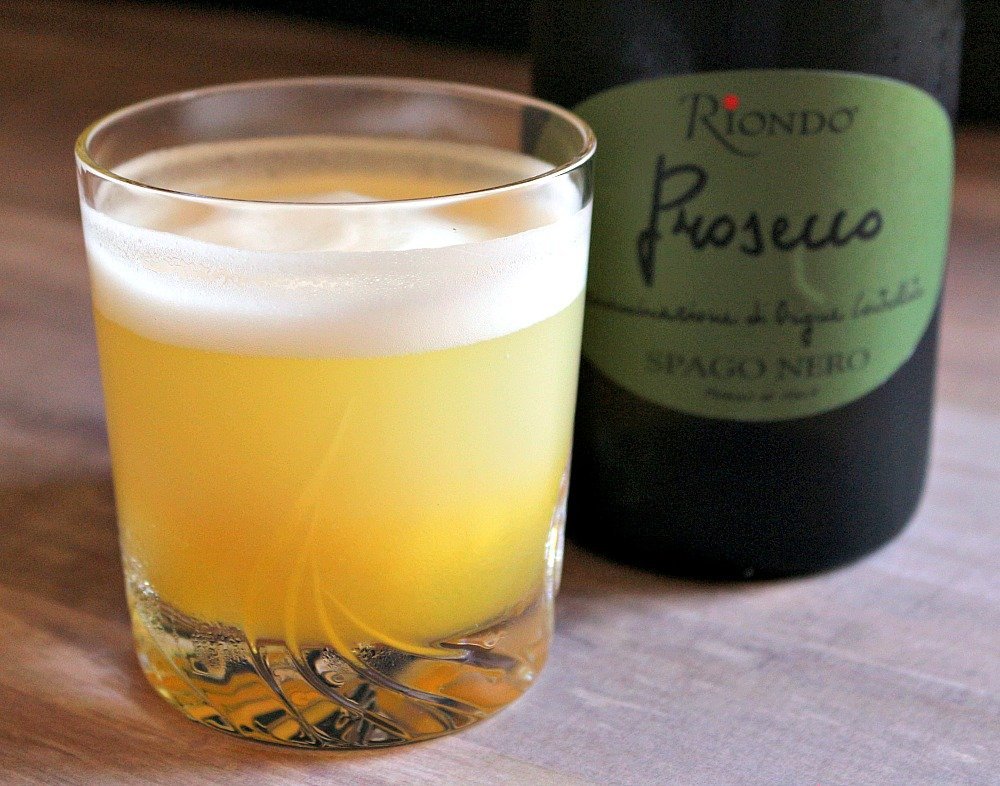 Passion Fruit Pineapple Prosecco Sour
I love egg-based foam cocktails for summer–they add a light creaminess to cocktails without all the calories of heavy whipped cream based cocktails. This passion fruit pineapple prosecco sour is a twist on the classic pisco sour — the sweeter pisco is replaced with the crisp taste of prosecco. The pineapple and passion fruit pureé is combined and frozen in the round ice cube molds so the sweetness slowly explodes into the cocktail while it is sipped. Delightful!
6 oz. Pineapple Juice
4 oz. Passion Fruit Pureé
4-5 oz. Riondo Prosecco
3 oz. Fresh Lemon Juice
1 oz. Simple Syrup
3-4 Shakes Orange Bitters
4 Tbsp. *Pasteurized Egg White
Maraschino cherry garnish
Tools:
Non Stick Cooking Spray
Cocktail Shaker
Two Round Ice Cube Molds
Two 8-10 oz. Old Fashioned Glasses
Cocktail Picks
(Makes two cocktails)
Rub non-stick cooking spray into the ice molds. Combine the pineapple and passion fruit pureé in a bowl and slowly pour into the two ice molds. Freeze the ice for at least 24 hours. In a cocktail shaker add the lemon juice, simple syrup, orange bitters, and egg white. It is important you use pasteurized egg white so there is no danger of food poisoning. Carefully removed the pineapple passion fruit ice cubes from the molds and place one in each old fashioned glass.
Top with 2-3 ounces of Riondo Prosecco per glass. Cover the cocktail shaker and shake vigorously for about 30 seconds, until the egg mixture turns to foam.
Carefully top each glass of prosecco with the egg foam. Top with maraschino cherry (just like the Riondo label!) Serve immediately.
*(You can purchase liquid pasteurized egg white at most grocery stores.)
To find Riondo Prosecco near you, visit their website. Riondo Prosecco You can also get more Riondo prosecco cocktail ideas here —> Riondo Prosecco Cocktails
A CAMPAIGN FINANCED ACCORDING TO EC REGULATION N. 1308/13