(Cue the Barry White music)
Rest your eyes on the photo above…let it draw you in with its chocolaty enchantment..
Go on…it's okay…It won't bite…well…maybe a little. It is dark chocolate after all.
It only wants to love you, excite you, make you happy…you know you want it…need it…
Hey…you. Yes, you! No licking the screen!
Hot fudge sauces are a dime a dozen, but a good chocolate sauce…no…a great chocolate sauce is hard to come by. Velvety smooth when heated, with a decadent hint of bittersweet chocolate and liqueur, creamy and rich. A great hot fudge sauce should passionately kiss your ice cream and leave it melted and quivering in a puddle. Bow chicka wow wow! Such a sauce would be criminal, don't you think? This Outlaw Hot Fudge sauce is exactly that and more-so good, it should be outlawed!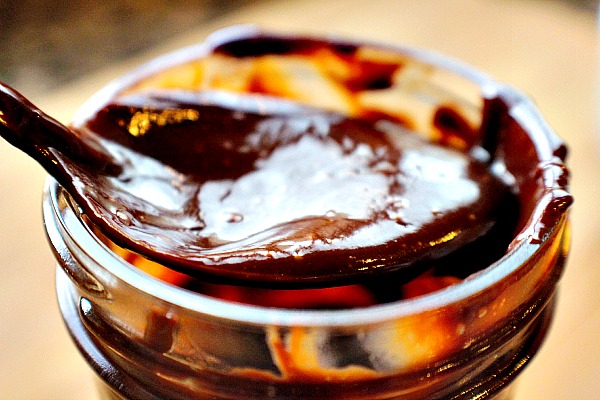 Outlaw Hot Fudge Sauce
1 c. Bittersweet Chocolate Chips
1 c. Semi-sweet Chocolate Chips
1/2 c. Unsalted Sweet Cream Butter ( Use the real thing here-no margarine!)
2/3 c. Evaporated Milk
2/3 c. Heavy Whipping Cream
2 c. Super Fine Confectioners Sugar
1 tsp. Chambord Raspberry liqueur (or use vanilla extract)
Melt the chocolate chips and butter over a double boiler, on medium high heat, stirring to help the chips melt. Add the sugar, and use a whisk to stir the mixture. When the chips are almost melted, slowly add the evaporated milk and stir until smooth. Add the whipping cream, whisking constantly until smooth. Stir 2-3 minutes, then immediately lower the heat to low, and cook for about 2-3 minutes, still whisking constantly. Remove from heat, and allow to thicken about 2-3 minutes, and then stir in the Chambord. Serve immediately, or store in a sealed container (glass preferred) in the refrigerator.
To reheat the Outlaw Hot Fudge Sauce, place in the microwave for 25-30 seconds, stir to smooth, and drizzle over ice cream, cake, cookies, your fingers, or these Strawberry Chocolate Croissant Hearts.
Save
Save
Save