My son has wanted an "Indiana Jones style" room since we moved into this house almost three years ago. I researched design, and decided to make a faux stone look on the walls, with accessories that would make it appear that he was sleeping next to an exotic jungle temple. Since he is older, I wanted to renovate so it was a "theme" room, but not too juvenile looking (so he could grow with it.) I priced muralists to do the faux stone, and got prices ranging from $600.00-1200.00. Yikes! That was too expensive for a room my son only uses to sleep in! We decided renovation would be time-consuming and expensive, so pushed it aside for other priorities. A few weeks ago, after my son came home with another straight A report card, I decided he had waited long enough for his dream room. Here is our renovation and a few of our Indiana Jones Bedroom Ideas!
Indiana Jones Bedroom Ideas
I decided to do the faux work myself to save money. Crazy, huh? Yeah, I thought so too. Although I am creative, I am not very artistic..or so I thought. It was only paint though, so figured I would give it a try. Thanks to TJ Maxx and Marshalls, the room accessories were not too expensive, and in fact, the most expensive item for his room was the antique style desk phone that I purchased from Amazon.com for $40.00.
Here are the results of Phase I…
When we moved in, we painted the walls a light tan, so the base coat was already done. I started the faux painting process by taping the edges and baseboards with blue painters tape. (Actually, my husband did this for me.)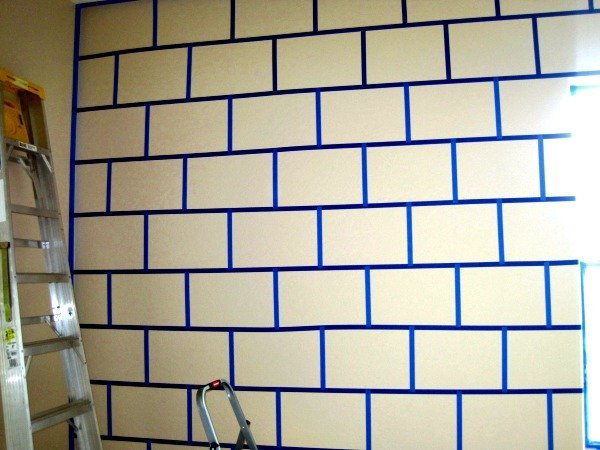 We then taped the "blocks" for the wall. Each block was 12 inches by 18 inches, so involved careful measuring/taping. When we finished taping the blocks, I put drop clothes over the carpet. I made certain to tape the drop cloth to the blue painters tape at the bottom border, in case of drips. I purchased one gallon of Vaspar Tuscan Accents Faux Finish Villa Stone 1 (from Lowes) to use for the stone look. The directions for this type of paint stated that it should be painted with a special faux finish brush, and then blended with a smoother, but I wanted more of a stone look, so purchased a large sea sponge to use for the painting.
I dipped the dry sponge into some paint, wiped it off slightly on the side of the paint tray, and then dabbed it on the wall. The paint has texture to it, so I discovered that the harder I tapped it on the wall, the more texturized it looked. I repeated this technique on all the blocks, making certain to tap it on the wall in a circular pattern within the entire block. This process took several hours to complete, and then I let it dry overnight.
When the paint had dried, I realized that it needed a second color to make it look more "realistic." I headed back to Lowes and picked up a quart of Valspar Stone Brown classic paint. (This was not a Tuscan accent or texture paint, just plain flat paint.) I started to swirl the darker color over the Tuscan accents paint with a second sponge, and quickly realized that it was too dark. In an effort to fix it, I dipped my first sponge back into the Tuscan accents paint and "wiped" it over the dark. In doing so, I removed some of the dark and it gave the wall a true textured stone look. My mistake became exactly what I was looking for! I spent the next five hours going over each block: in one hand was a sponge with the Stone Brown paint, which I lightly dabbed in spots on the block, and in my other hand was a sponge with the Tuscan accents paint, which I pounded over the darker color to smooth out the contrast.
When I went back to Lowes for the Stone Brown paint, I found a nifty little accent to use for the final step: Valspar Paint Crystals. Oh my goodness-these were so cool-they are like glitter for adults! You mix the paint crystals into your paint to add a "glittery" granite look to your faux. I mixed this into a little bit of the Tuscan accents paint and lightly dabbed this over each painted block. When the wall dried, it looked like real stone!
Faux painting websites suggest blending some of the lighter paint into the "grout lines" where the blue tape is removed, but when I did that on some of the edges, I did not like the look, so left it the way it was. Once the entire wall was dry, I pulled off the blue tape, picked up the drop cloth, and put the room "together."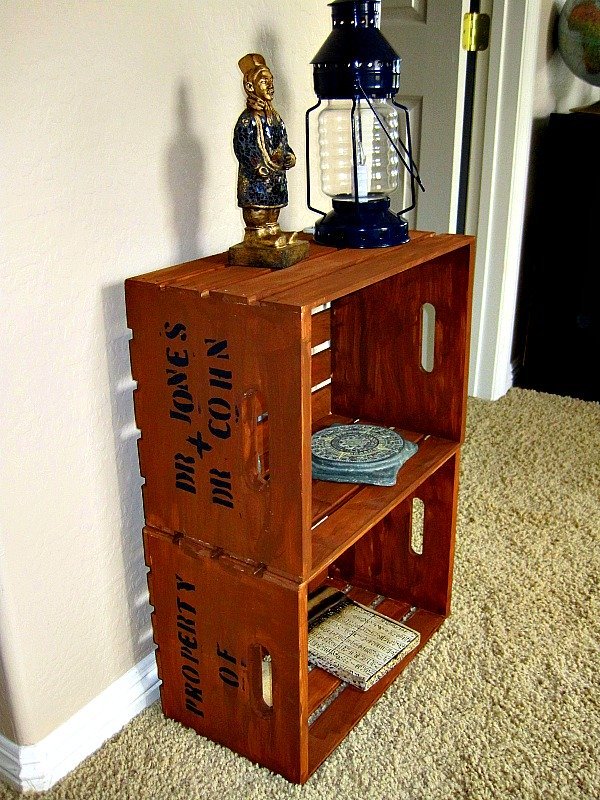 One of my side projects was to purchase some wooden crates from Micheal's, paint them, and add some "Indiana Jones style" lettering. I placed "artifacts" that I had purchased from Marshalls inside the crates. The Chinese artifact was $7.95, the grey "tablet" was $5.95, and the Egyptian "tablet" with hieroglyphics was $6.95. (The lantern was old-purchased several years ago at Target.)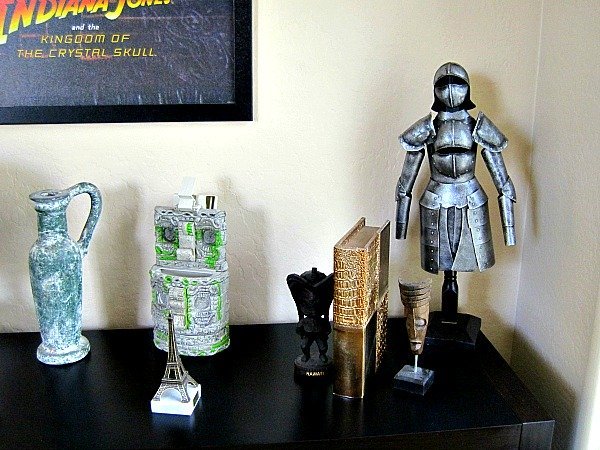 I found a small side table on clearance at Joann Fabrics for $15.00 and a leather look basket at Ikea for $7.00. The other side table was old, as was the lamp. The telephone was purchased from Amazon.com for $40.00. (He has a collection of pocket watches and old coins which I scattered on the table for effect.)
The bookcase was old, as were the books. Two of the globes were old, the third (with the silver base) was $10.95 at TJ Maxx. The suit of armor was purchased at TJ Maxx about a year ago for $12.95. I purchased all three maps on Ebay for $6.75 (including the shipping.) The Indiana Jones map was purchased at Disneyland several years ago. The Terra Cotta Warriors were purchased at a museum last summer.
I purchased the comforter and shams at Walmart on clearance for $30.00, and my son had the Indiana Jones hat from a few Halloweens ago. Everyone who has seen the room cannot believe I did it–they all said that it looks like a professional designed the room. I did a better job than I thought I would, primarily because I took my time and was careful with my work. Something else I discovered? It was fun to do this!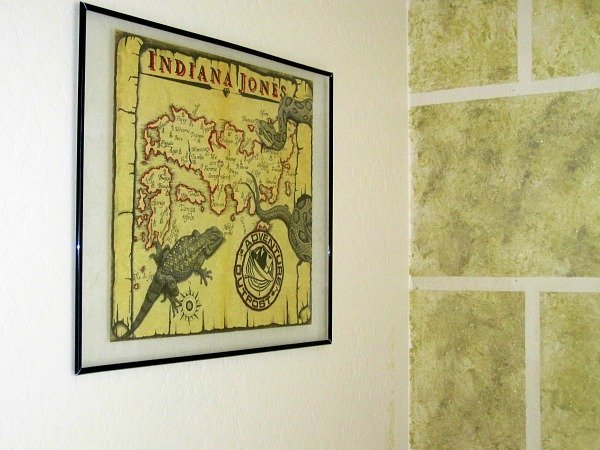 I will finish painting the other walls with the faux stone look, make the bed into a swing bed, and add more maps to the walls. I still have a lot of work to do, but the reaction on my sons face made all the hard work worth it: he stated that it was the "best gift ever", and he "could not wait to show all his friends!" He wants to be an archaeologist some day, so this was the perfect room design for him.