Is it hot enough for you yet? Arizona is averaging 110 degrees and the rest of the country is gearing up for 100 degree weather this week so I know everyone is looking for easy ways to stay cool. This recipe for Watermelon Lime Aqua Frescas (Spanish for fresh water) is so refreshing you will feel like you are vacationing in the Arctic. Hint: This is especially good while soaking in a cool pool!
Aqua Fresca is a popular drink in Mexico, found at cafes and street vendors, and often flavored with juicy summer fruits such as watermelon, cantaloupe, mango, or papaya. This Watermelon Lime Aqua Frescas is a tiny bit more tart than most frescas, but the combination of sweet-tart is exactly why it is so refreshing. Your kids (and you) will love this!
Watermelon Lime Aqua Frescas
1 Small Ripe Watermelon (5 cups)
1 c. Water
1 Lime, Juiced
1/2 c. Sugar
Mint Leaves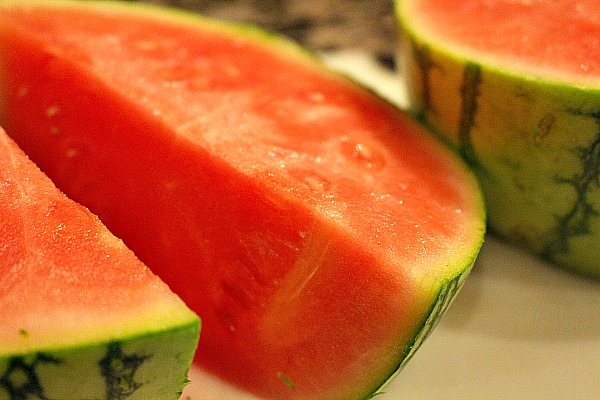 Cut the rind off the watermelon and cut the watermelon into small chunks. Pour 5 cups of the chopped watermelon into a blender. Add 1 cup of water, the juice of one lime, and 1/2 cup of sugar.
Blend until pureed. Pour into a large pitcher, add 3-4 mint leaves, and place in the refrigerator to chill for an hour. Serve poured over crushed ice with a sprig of mint and feel the heat pour from your body!
Note: The riper the better for the watermelon as it is sweeter when ripe. Also, this mixture is a little thick, so add more water to thin it to taste. We like true watermelon water so I add another 1/2 c. or so to thin it out.
Save
Save
Save