Remember that quirky early 1990's tv show, Twin Peaks, directed by David Lynch? One of my all-time favorite shows, it is now considered a cult classic. Do you know where Twin Peaks was filmed? Set and filmed in Washington state, the scenery is almost as famous as the show itself. Majestic mountain peaks, dark brooding pine forests, and that beautiful waterfall in the opening credits? Eye chi-wow-wow! (Like my Gordon Cole reference?) David Lynch, Mark Frost, and Showtime brought the show back for another season in 2017, with much of the original cast, as well as a few new characters (omg, Laura Dern?!) making the show bigger, better, and quirkier than ever. If you are as much a fan of Twin Peaks as we are, you are going to love this Twin Peaks film locations road trip in the Seattle area, featuring old favorites like the Double R diner, that "famous" waterfall, and even Laura Palmer's house.
Twin Peaks Film Locations Road Trip
Twin Peaks is a television classic from the late 1980's, but the rebirth of Twin Peaks on Showtime sparked a whole new generation of fans, including my son. After seeing the old episodes and the new season, he became more interested in visiting the the Pacific Northwest where it was filmed, and when we discovered that fans could visit some of the real life film locations, we decided to make a family trip out of it. While on our trip, in addition to visiting the Twin Peaks film locations, we took in some of the famous sites in downtown Seattle, as well as a trip west to the gorgeous and haunting Olympic National Park. The highlight of our trip, however, was the road trip to several real life Twin Peaks film locations where we ate, stayed, and saw "Twin Peaks" just as the characters in the series did.

Setting the Scene
Filming for the Twin Peaks primarily took place in North Bend, Snoqualmie, and Fall City, Washington, three small rural communities located about 45 minutes east of downtown Seattle, along Interstate 90. There is a reason Lynch and Frost filmed here–just as in the series, these towns are known as small mill and logging towns, with gorgeous country roads that wind along Snoqualmie River and through beautiful, yet haunting forests. These towns also serve as gateway to Snoqualmie Pass, a mountain range in the Cascade mountains, with the namesake "twin peaks" visible from town. While visiting, especially staying at The Salish Lodge, one gets a sense of the unique eccentricity of the area. I could not help wonder if life imitated art or art imitated life?
Stop #1: Double R Diner (Twede's Diner)
Twede's Diner, in North Bend, Washington was our first stop of the Twin Peaks film locations. Remember the Double R Diner, owned by Norma Jennings, where everyone gathered for the town gossip, and Dale Cooper enjoyed his "damn fine" coffee and pie? It's a real diner you can visit and even eat pie and coffee just like Agent Dale Cooper. After a fire in the 2000, the diner was renovated to look exactly like the Double R Diner, so if you visit, you will have an authentic Twin Peaks experience. We stopped in for lunch, enjoying platters of juicy cheeseburgers and crispy fries, then coffee and a piece of fresh pie. I have to admit, it was a "damn fine" cup of coffee.
137 W North Bend Way, North Bend, WA 98045
Stop #2: Ronnette's Bridge
Remember the scene in episode 1, where Ronnette Pulaski is found wandering barefoot across a railroad bridge, bloodied and battered? This is a real bridge, Reinig's Bridge in North Bend, Washington, not far from the Double R Diner. There is no parking here, so pull off the road so you do not disrupt other drivers. The bridge was damaged by fire in 2014 so is inaccessible to walk across, but you can take all the photos you wish.

Reinig Bridge SE Reinig Rd, Snoqualmie, WA 98065
Stop #3: The Twin Peaks aka Mount Si
Though not a separate map stop, you can see the "twin peaks" while stopped at Ronnette's Bridge by facing northeast toward Mount Si. The mountain, seen in Twin Peaks opening credits (just beyond the Welcome to Twin Peaks sign) is part of the Cascade Mountain range, rising to an elevation of 4,167 feet. Popular as a local hiking destination, enjoy the four mile long Mount Si trail, accessible during late spring, summer, and early fall.
Note: The Welcome to Twin Peaks sign used to be located on Reinig Rd near the bridge too, but is no longer there.

Stop #4: The Sheriff's Station & Packard Saw Mill
About a mile from Ronnette's bridge is a building that served as the sheriff's station in the Twin Peaks television show. Now painted orange. it is now the office for Dirt Fish, an auto racing school, but still honors its history with a replica of the sheriff's truck in the parking lot, which you are allowed to photograph. You can also see the remnants of the old Packard Saw Mill in the fields behind the building, including the chimney stack.
7001 396th Dr SE, Snoqualmie, WA 98065
Stop #5: Snoqualmie Falls
The gorgeous waterfalls in the opening credits, Snoqualmie Falls, are real and you can visit them in the town of Snoqualmie. The 268 foot high waterfall, taller than Niagara Falls, is one of the most famous attractions in Washington, with over 1.5 million visitors a year. There are two ways to see the falls: the upper observation area and the lower parking lot. We were able to visit the falls from both locations, but chose to visit from the bottom first, so we could photograph the river and the falls looking upward. The lower falls parking lot is not as busy, with a nice 1.5 mile walk along a boardwalk next to the the river, walking toward the falls.
37479 SE Fish Hatchery Rd, Fall City, WA 98024
Stop #6: The Great Northern Hotel
The exterior shots of the Great Northern Hotel are in fact the real life hotel, The Salish Lodge in Snoqualmie. The views inside and outside of the lodge toward the falls are gorgeous, and I recommend staying overnight here. The interior of the Salish Lodge does not resemble the interior scenes of the Great Northern, but is as beautiful, and their gift shop has fun Twin Peaks gifts, including a Great Northern key chain, stationary, and more. If you stay overnight at the lodge, take a walk along the upper falls after dark, where you can see the falls lit with spotlights.


6501 Railroad Ave, Snoqualmie, WA 98065
Stop #7: The Roadhouse
About four miles from the Salish Lodge is the Fall City Roadhouse, the building that served as the exterior shots of the Roadhouse, also known as The Bang Bang Bar in Twin Peaks. If you recall, The Bang Bang Bar was run by Jacques Renault, who also bar-tended at One Eyed Jack's . We did not go inside, just took photos outside, but I've heard from locals that the food is good.

4200 Preston-Fall City Rd SE, Fall City, WA 98024
Stop #8: Laura Palmer's House
Laura Palmer's house is a must-see, but there are a few things to know, before you go. First, the house is an actual private residence in Everett, Washington, about an hour north of the other film locations. Also, because it is a a private residence in a private residential neighborhood, you must be discreet and respectful if you visit. Park on the street, not in front of anyone's driveway, take your photos, and then leave. Don't gawk, don't knock on the door to see if Laura is home, don't disturb the people who own the home or their neighbors. Be respectful!

708 33rd St, Everett, WA 98201
Tips
Interstate 90 experiences winter road conditions, so check the weather before driving in the Snoqualmie area.
These film locations are featured in a great tv show, but are real businesses and residences. Please be courteous.
The lower falls area of Snoqualmie Falls are a great place to take photos.
Stay at Salish Lodge. The food and lodging are incredible.
While in the area, be sure to visit Seattle and some of the nearby national parks, such as Mount Rainier NP and Olympic NP.
You can access the custom Google map I created for this Twin Peaks film locations road trip with the addresses here: https://drive.google.com/open?id=19vmN6xXQ9lKGfqB4J-U2vANYbjyymapa&usp=sharing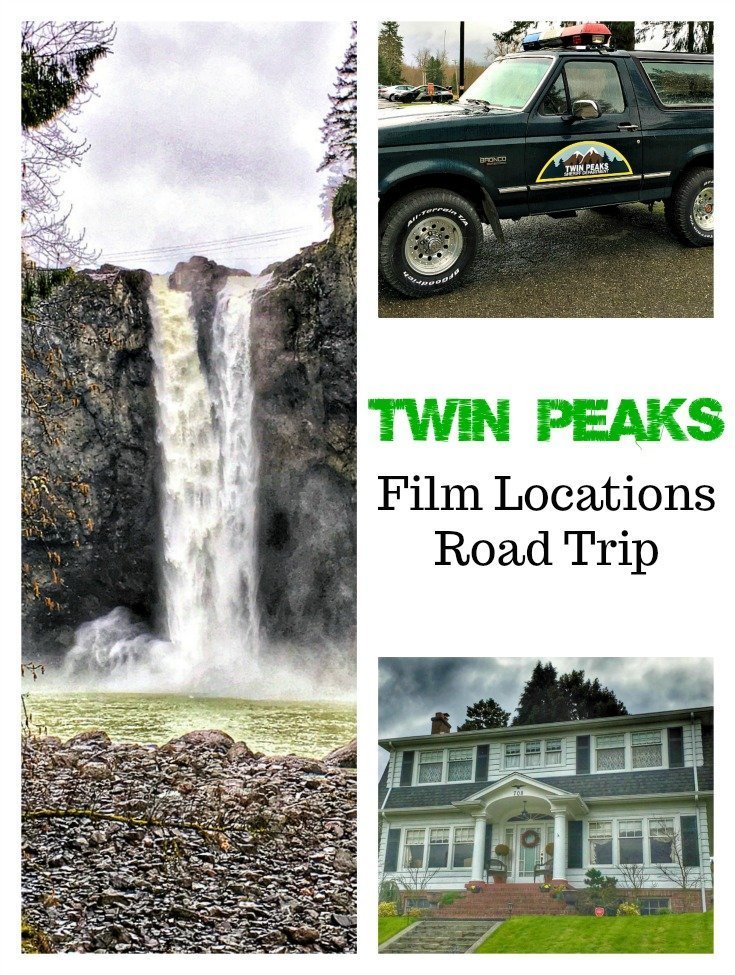 (Twin Peaks Theme by Angelo Badalamenti)
Would you like to book a Twin Peaks trip?
When you are ready to book your Twin Peaks trip, please remember that I am also a veteran travel agent and Seattle expert and can assist you with your travel plans. My partnership with Signature Travel Network (as an independent affiliate of Plaza travel) allows me access to exclusive amenities at luxury hotels with extras such as free breakfast daily, room upgrades, resort credits and more. For more information, please visit the Luxe Journeys Travel website or fill out this travel request form!