When you travel, do you remember to leave a tip for housekeeping in your hotel room? Housekeepers work hard to keep our hotel rooms neat and clean, and many times go out of their way to accommodate our sleep schedules, our messy habits, and our requests for extra towels and toiletries. These printable thank you notes for hotel housekeeping say thank you in a nice way!
Thank You Notes for Hotel Housekeeping
Tipping etiquette dictates that you leave $3 to $5 for each night of your stay, and that you leave a tip each day, as the housekeeping staff may change during your stay. Leaving money on the counter is not enough, though; housekeeping may think the money you leave is yours. It's best to leave a note to indicate that the money is a tip, and that is where these notes are perfect! Leave one of these notes with your tip money, and housekeeping will know the tip is theirs, and that you appreciate their hard work.
How To Use These:
Print a bunch of these on card stock, cut them out, and place in a baggie in your luggage, so you will have them ready whenever you travel.
Here is the
printable
version, so you can print out the whole bunch!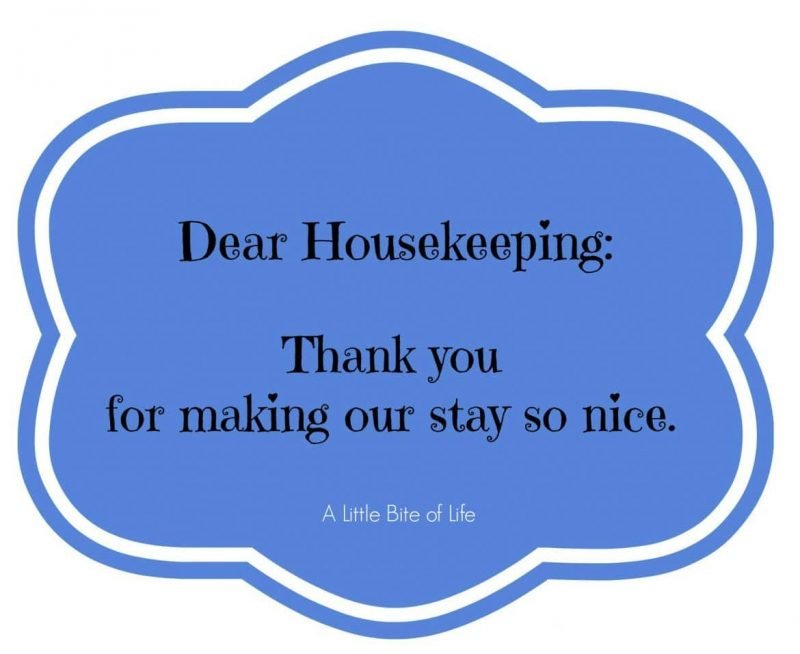 {Disclosure: These printables were designed by A Cork, Fork, & Passport and are copyright protected. You may use/print these, but please do not alter them. Thank you!)