I don't want to brag, but I am the queen of road trips. The QUEEN! (Where is my tiara??) My son and I have covered thousands of miles in our adventures, and somewhere along the way I learned a thing or two about traveling by car. Some of it good, some not so good. One thing that has kept me sane (besides bagfuls of Twizzlers and New Wave music on XM Radio) are the iPhone apps I use while on the road. Here are ten iPhone road trip apps to use for your next road trip, and believe me, these apps will make road trips stress-free and so much more enjoyable!
Ten iPhone Road Trip Apps
Trip Advisor
Trip Advisor is my favorite tool to check ratings for lodging, restaurants, and activities for the destinations we travel to. I trust the ratings from Trip Advisor because they come from regular travelers like me, plus have very detailed reviews, with pros and cons. The app easily locates where you are (or you can manually put in a destination) and pulls up a list of restaurants, lodging, etc. I can use filters to search for different types of restaurants or lodging, and there are always maps to easily find your destination. Even many of the smaller towns have Trip Advisor ratings, so we can find recommendations wherever we go. (Free)
Roadside America
I love to stop at all those kitschy/quirky roadside attractions while traveling, don't you? Roadside America helps finding the unique places that make American great super easy. If you can't go through central coast California without seeing the World's Largest Artichoke? Done. Want to see the zebras at Hearst Castle? Done! Interested in driving through the drive-through tree in the Redwoods? Done! I even discovered a gas station used in the movie "Raising Arizona" just a few miles from our house, so this app is not only fun while road tripping, but perfect for day tripping too. The app is $2.99 but is worth every penny as it is the #1 surefire way to get rid of boredom while driving! ($2.99/$5.99 all regions)
Waze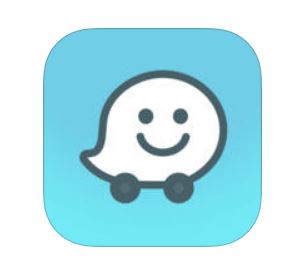 If you like Google Maps, you are going to love Waze. Part of the Google family, Waze maps out your driving route and alerts you to construction, traffic, obstacles in the road, and even police activity. While driving, if there is significant congestion on your route, Waze will update the map with a faster route option, and because alerts are updated by a community of Waze users, you always have the latest traffic conditions. On our last trip, Waze re-routed us several times and shaved hours off our commute. Note: Some re-routes may take you on unique routes but definitely saved us time, so we learned to trust the recommendations. (Free)
Trip Case
Many of our road trips involve changing hotels nightly, with museums and other attractions along our route. Certain reservations get booked directly with the hotel, some through Expedia, and some through other sources, so I usually have itineraries and reservation confirmations all over the place. Trip Case, a mobile travel organization app, allows me to organize our entire trip into one easy-to-read itinerary, with destination information, confirmation codes, and other relevant information at my fingertips. (Free)
Gas Buddy
Gas Buddy helps you find the cheapest gas in the area you are driving, then works with your map app to give you directions to the gas station of your choice. This is especially convenient when you are at a state border and want to know the gas prices in the neighboring state. From California to Arizona, our gas prices went down by 50 cents a gallon! (Free)
Food Tripping
I don't like eating fast food at any time but especially on the road. Sitting in the car + fast food = indigestion and bloating. Yuck! Food Tripping allows me to find healthier food alternatives such as juice bars, healthy takeout, farmers markets, roadside farm stands, health food stores, and farm-to-table cuisine. Enjoy the local produce while traveling! (Free)
iExit
You know how when you driving on the interstate in the middle of no where, someone always needs to use the restroom immediately, but you don't know if there is a rest area, gas station, or near by? iExit is a handy app to see what is available at the next exit, including gas, food, and lodging. It will even tell you if there are banks and stores nearby. (.99 cents)
Open Table
Looking for a restaurant to have lunch or dinner while on the road, with the ability to make reservations? Open Table shares restaurant ratings, available reservation times, and allows you to make a reservation…all from your phone. Plus, each time you make a reservation, you can earn points toward free restaurant certificates. (Free)
Road Trippers
Road Trippers is the ultimate road trip app! Start a trip, add destinations, use existing trip guides, and get great travel ideas. There are guides for scenic drive, camping trip, classic USA road trips, and more. One of my favorite guides is the film trippers section with ideas for film locations to visit while traveling. (Free)
Road Trip Food Guide West USA
The Road Trip Food Guide is a fun family app for finding unique foods along a road trip path, such as local pie places, donut shops, burger joints, diners, and pizza parlors. Also great for local day trips with the kids. Unfortunately, this app is only available in western US states, but if you are heading west of Texas, be sure to download it! (Free)
Note: Many of these apps are also available on Android phones too!
Save
Save
Save
Save
Save
Save
Save
Save
Save
Save