Phoenix has so many great places to eat, with different culinary choices to satisfy any craving.  With so many options, it can be difficult to distinguish the good, the bad, and the ugly.  Here are ten dining secrets in Phoenix (and some not so secret).
Fried Avocado with BBQ Pulled Pork:  Salty Sow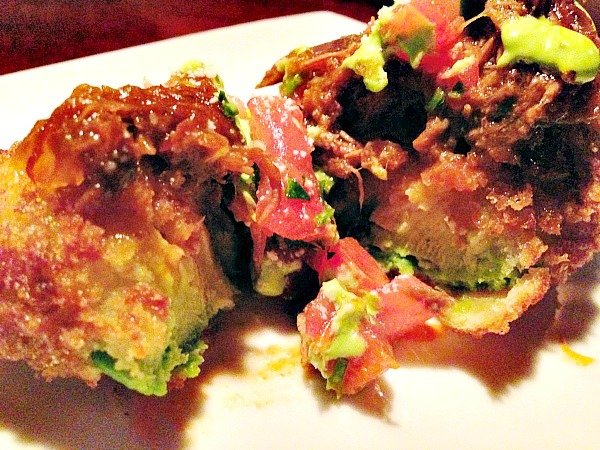 Before you nosh on Crackling Pork Belly,  Salmon BLT, or Rotisserie Roasted Pork at Salty Sow, make certain you start with the creamy Fried Avocado encased in a crisp shell of bread crumbs and topped with their on-site smoked pork BBQ.  Intoxicating!
2.  Sangria:  Chelsea's Kitchen
Chelsea's Kitchen's laid-back atmosphere makes you feel like you are in your grandmothers living room…if your grandmother was a hipster.  The food is easy-going gourmet, but their white sangria, loaded with fresh fruit and juicy wine, is the stand-out in the already stellar menu.
3.  Big Fat Burger:  Roaring Fork
Everything at Roaring Fork is bigger and better, and their "Big Ass" burger is no exception.  Juicy beef with cheddar cheese, smoked pepper bacon, and Poblano pepper make this burger shameless.  Plan on lots of napkins and a fork and knife–there is no way any decent person could fit this in their mouth.  By the way, Roaring Fork's other entrees aren't too shabby either.
4.  Quiche:  Lux Coffee
Lux is well known for their delicious coffee and hipster atmosphere, but have you ever tried their quiche?  It tastes as if Julia herself works in the kitchen preparing these decadent custard pastries.  Creamy, with a flaky crust and lots of fresh veggies, one slice will leave you weak in the knees.
5.  Croque Madame:  Zinc Bistro
Zinc Bistro has two great secrets, so it is hard to decide which one to feature; a toss-up between the Truffles and Parmesan Frites or the Croque Madame.  Fortunately, the Croque Madame wins by a fork. Ham, leeks, and gruyere nestled on buttery brioche, topped with a fresh sunny-side up fried egg and mornay sauce.  Swoon all you want, but eat it before it gets cold.
6.  Guacamole:  The Mission
Guacamole doesn't come any fresher than this.  The server mixes up the guacamole fresh tableside, blending jalapeno, red onion, sea salt, lime, tomatoes, chipotle puree, olive oil, and cilantro, then topping it with a sprinkle of roasted pepitas (pumpkin seeds) and cotija cheese. I could make a meal on this and chips!
7.  French Dip:  Houston's
Houston's has so many dishes to choose from, such as the Thai Steak & Noodle or the BBQ Ribs, but it's the classic french dip that keeps people coming back again and again.  Juicy prime rib beef is shaved fresh daily and piled high on a soft egg roll,  ready to dip with a side of tangy horseradish and a savory au jus.  (Houston's and Hillstones are part of the same restaurant group, so you can also find the French Dip at Hillstone's in Phoenix too.)
8.  Flaming Coffee:  La Hacienda
La Hacienda has such an impressive menu, anything you try would be incredible.  Located in the Fairmont Scottsdale Princess, La Hacienda offers over 200 different kinds of tequila, has an impressive table-side guacamole, and some of the best Mexican entrees, with fresh lobster, crab, beef, sea trout, and shrimp,, but it is their famous bebida de fuego or flaming coffee that will have you cheering by the end of the meal.  Made table-side, a server artfully swirls coffee with sugar and cinnamon, along with lots of liqueur, such as Bailey's, Frangelico, or Grand Marnier, then lights it on fire.  The server twirls the cup, sending flames high into the air, as the coffee, spices, and liqueurs are brewed into the coffee.  He finishes the coffee with whipped cream and chocolate shavings. A spectacle to see, and delightful to drink.
9.  Devil's on Horseback – District Kitchen
This District Kitchen signature appetizer, made from dates filled with cream cheese, wrapped in bacon, and drizzled with a maple/chili glaze is devilishly addictive.  Enjoy a few (or 10)  before diving into District Kitchen's Hudson Valley duck breast with cocoa gnocchi or the Oak Creek Nut Brown Ale braised short ribs.
9.  Sweet Corn Ice Cream – Sweet Republic
The ice cream at Sweet Republic is made in-house, and you can taste the difference.  Fresh cream, sugar, and natural ingredients make this ice cream one of a kind.  With flavors such as Honey Blue Cheese, Basil Lime Sorbet, Honey Lavender, and Salted Butter Caramel Swirl, you would never get bored, but it is the sweet corn flavor that will really make your mouth smile.  Who knew eating your vegetables could be so enjoyable?
I am always looking for new foodie treasures…what are some of your ten dining secrets in Phoenix?