I'm a big snacker, but snacking while maintaining a healthy lifestyle can be challenging, especially while trying to lose weight. It is too easy to reach for candy, potato chips, or a cookie; it is much harder (and less tempting) to reach for something healthy, usually because healthy snacks require a bit more work. Fortunately, there are also plenty of easy to reach for healthy and delicious snacks for those who follow a healthy lifestyle such as the Mediterranean Diet. When a snack attack hits, these are my ten amazing healthy snack ideas, with something for crunchy, salty, and sweet cravings!
(This post contains affiliate links to support my small business.)
Ten Amazing Healthy Snack Ideas
Are you a snacker? Snacking has gotten a bad rap, but believe it or not, snacking can be good for you, even if you are trying to lose weight. It's true! A healthy snack can keep you from cheating and/or overeating, sabotaging all your hard work. A snack can also provide you with nutrients, good fats, and fiber to keep your body running all day, and many of these snacks are easy to reach for on the go.
Although I do intermittent fasting during the week, I sometimes need a healthy snack to tide me over between brunch and dinner. For me, as a busy woman, the key is quick and easy. Keeping easy wholesome snacks on hand prevents me from reaching for an unhealthy and/or fattening snack. These guilt-free nibbles do the trick for me, keeping me satiated and satisfied. In fact, because my family eats differently than I do, there are always tempting cookies, chips, and other goodies in the house, but I have learned to reach for one of these snacks instead.
Crunchmaster Multi-Grain Crackers
Crunchmaster makes two styles of snack crackers. The multi-seed crackers are tasty little gluten-free treats with sesame, quinoa, flax, and amaranth inside each crispy baked cracker. The multi-grain crackers are made with brown rice, oat fiber, seeds, and are baked, not fried. Not only do they taste incredible, but they are also low in fat and non-GMO project certified. Each serving (approximately 15 crackers) contains zero added sugar, with 19-22 grams of whole grain, and 280 milligrams of Omega 3. I usually only need about 5-6 crackers to fulfill my crunch craving and they are great with cheese or veggie toppings. Shop Amazon, $12.99 for two 4.5 oz bags https://amzn.to/2DytoeF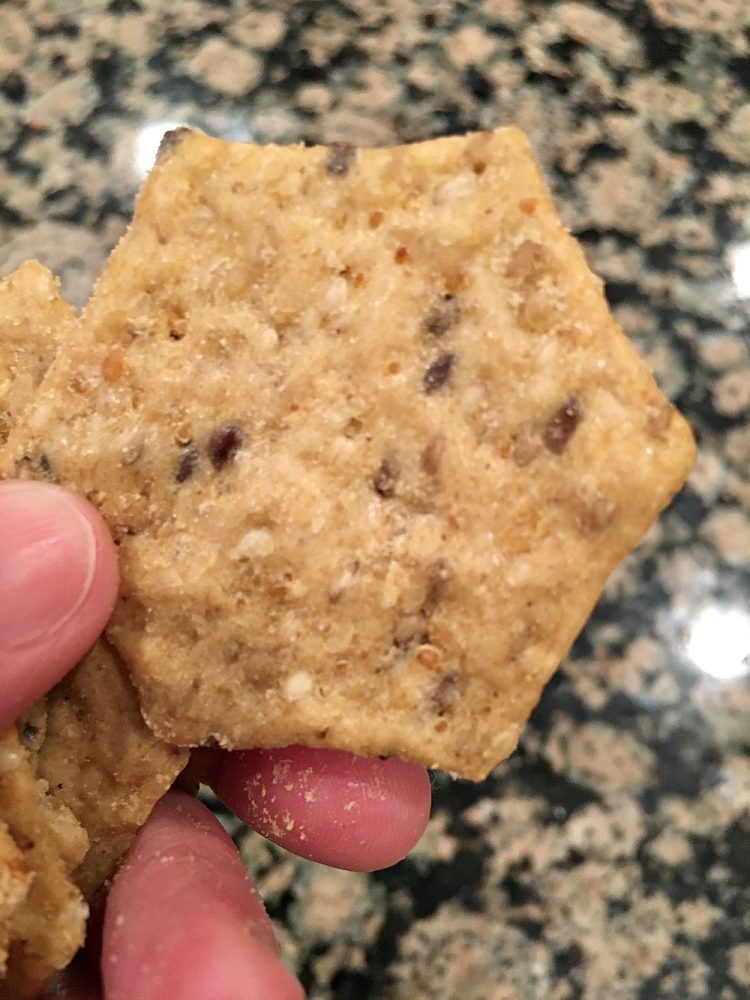 Undercover Snacks
These incredible little bites of goodness are crispy quinoa covered in chocolate, perfect for quieting that raging sweet tooth. They are gluten-free, allergy-friendly, and come in dark or milk chocolate (the dark chocolate flavors use vegan ingredients). Undercover Snacks have several amazing flavors but my two favorites are the Dark Chocolate and Pomegranate, and Dark Chocolate and Blueberry. Shop Amazon $31.92 for eight (2 oz) bags https://amzn.to/3gXPzIM
Fresh Veggies
It seems cliché but fresh vegetables are the bomb! I have learned to appreciate the unique and tasty flavor of fresh vegetables, and vegetables are an important component of healthy eating. Vegetables like celery, red pepper, and broccoli fill you up fast, are low in fat and calories, and are packed with vitamins, minerals, and fiber. I am partial to fresh cauliflower and snap peas, especially when I dip them in two of my other favorite snacks below, hummus and guacamole.
Fresh Fruit
I was never really a fan of fresh fruit until I started to get serious about healthy living. Sure, I ate fruit occasionally, but usually baked in a pie or in a glass of juice. When I stopped consuming super sugary treats, I realized fresh fruit had everything I needed as a whole fruit sweet treat, with natural sugars, more fiber, and more vitamins. I mix fresh apples in my morning oatmeal and munch on fresh blueberries and raspberries like candy. One of my favorite indulgences is a small bowl of juicy fresh cherries.

Olives
Did you know olives are actually a fruit that has been cured in salt? I always enjoyed olives, but more as a side relish for Thanksgiving or Christmas, never to eat as a snack on its own. Now I eat olives almost every single day, either as a snack or in salads or side dishes. Olives (and olive oil) are one of the key components of the Mediterranean diet way of life. They are packed with antioxidants and vitamin E, are low in calorie and high in fiber and contain monounsaturated fatty acid, a good fat your body needs to burn fuel and keep your heart and brain healthy. Olives are nutritionally one of the world's most perfect snacks, but if you are on a low sodium diet, watch the sodium content. I am obsessed with the Whole Foods Olive Bar, but I also enjoy these individual snack packs from Pearls for a quick and easy snack.
Hummus
Hummus is a decadent dip that is as satisfying as it is healthy. Made with chickpeas and olive oil, hummus is a good source of fiber, good fats, and plant-based protein. Mix it up a little by infusing unique flavors into your hummus, such as pomegranate, roasted red pepper, or basil. To get the best health benefits, dip hummus with pita chips or fresh vegetables.
Guacamole
Full disclosure: Out of the Ten amazing healthy snack ideas, this is my favorite. I am obsessed with guacamole. I've been known to create entire meals (fajita bowls, southwest chicken salad, etc.) around guacamole as an excuse to have it for a meal, but it makes a great snack too! Made with heart-healthy avocado, fresh tomatoes, onions, lime, and spices, guacamole is delicious dipped with homemade corn chips or fresh veggies.
Nuts
Nuts are another snack I did not eat often before starting the Mediterranean diet, but I love them now! Nuts are power-packed with healthy fats, Vitamin E, magnesium, and Omega 3 & 6 and are crunchy and satisfying. When I want a quick snack to fill me up, especially when traveling, I reach for a few almonds or pistachios. My favorite treat is these Blue Diamond Wasabi and Soy Sauce Almonds. Shop Amazon, approx $9.75: https://amzn.to/3h52Y1I

Greek Yogurt
Greek Yogurt is a great breakfast option, but I also enjoy it drizzled with raw honey and sprinkled with granola and fruit, as a dessert treat. Greek yogurt is teeming with gut-healthy probiotics, protein, calcium, B12, and potassium and is filling. Look for a greek yogurt that has lower sugar content. My favorite granola to sprinkle on top is Our Daily Eats Maple Crunch Granola. It has all-natural ingredients, is low in fat, and has one of the lowest sugar contents of any granola I have found.

Four Bean Salad
When I want something more substantial to snack on but still keep it low fat, I reach for a dish of my Four Bean Salad. The chickpeas and kidney beans contain protein to fill me up, and the crunchy veggies and tangy dressing are refreshing.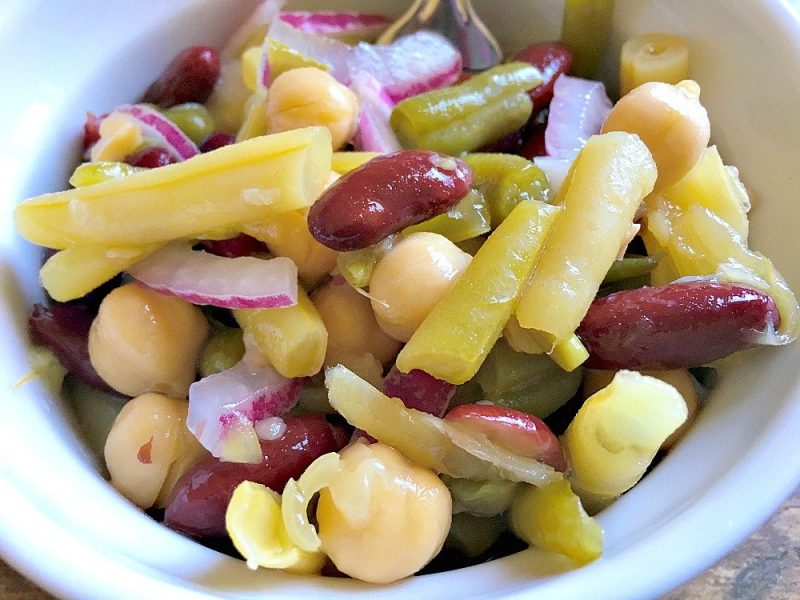 What is your ten amazing healthy snack ideas?
Other healthy appetizer snack ideas include: