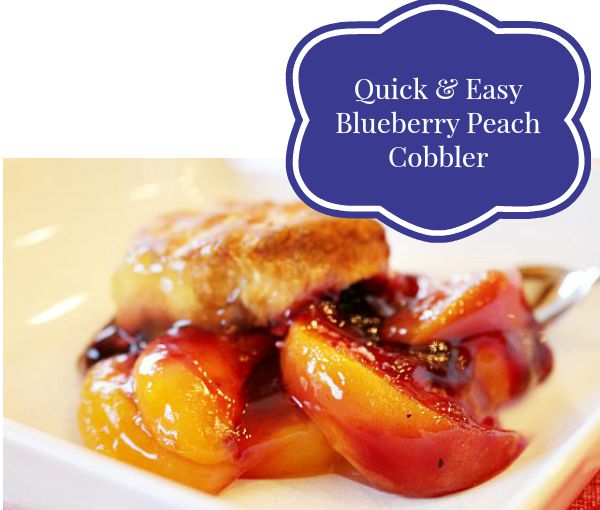 Now that my son is back in school, summer is "unofficially" over at our house, but I wanted to take advantage of the last peaches of the season and blend them with my other favorite summer fruit, blueberries.  Since school days are busy, I don't always have time to make homemade buttermilk cobbler batter, but since Pillsbury Grands frozen biscuits are similar to my own buttermilk biscuits, they make a delicious substitute.  This Quick & Easy Blueberry Peach Cobbler was super easy to make, thirty minutes from mixing bowl to dessert bowl, and even easier to eat!
Full disclosure, Although I used fresh peaches and blueberries in my dish, I also used a can of peach pie filling to give the peaches and blueberries a fuller texture.  This eliminated cooking the fruit in a pan with flour, butter, and sugar to thicken it, cutting off about 15 minutes of work.
Quick & Easy Blueberry Peach Cobbler
2-3 Fresh Peaches
1/2 Pint Fresh Blueberries
1 can Peach Pie Filling
1/2 tsp. Cinnamon
4-6 Pillsbury Grands Frozen Biscuits
1 Egg White
1 tsp. Sugar
Preheat oven to 375 degrees.  Place 4-6 Pillsbury Grand Biscuits in the oven for about 8-10 minutes.  Remove from the oven and set aside to cool.
Wash and dry the peaches and blueberries.  Pit and peel the peaches,  than cut into thin slices into a large bowl.  (You can also drop the peaches in hit water for about 3 minutes, and the skins will slide right off.)
Throw the blueberries in with the peaches.  Add the peach pie filling and cinnamon and blend.  Butter a large baking pan and spoon the fruit mixture in.  Slice each Pillsbury Grand biscuit in half and place on top of the fruit mixture, outside facing up.  Whisk the egg white with the sugar and brush the top of each biscuit with the egg white mixture.  Place in the oven and bake 20-22 minutes, until the biscuits are golden.  Serve immediately with whipped cream or ice cream.
Tip:  Make this Quick & Easy Blueberry Peach cobbler in mason jars for a pretty dessert!
Note:  This is not a sponsored post for Pillsbury.  This recipe is my own creation.