A stay at the Loews Coronado Bay Resort brings luxurious relaxation, comfortable amenities, and blissful family time. The Loews Coronado Bay is set on a small peninsula on the San Diego bay side of the island, with its own marina, spa, tennis courts, pools, restaurants, and bars.
Loews Coronado Bay Resort
A grand staircase and cozy couches welcome guests into the large lobby area, with the check-in counter, concierge desk, and bell captain all within easy reach. The bar and a large family-friendly lounge area are at the back of the lobby, leading to a relaxing outdoor lounge area overlooking the bay, with umbrellas, lounge chairs, and fire pits.
Be prepared for relaxation while at the Loews Coronado Bay Resort. Gardens connect each of the five resort buildings, each with a different theme. As you walk from the herb garden to the tropical floral garden, all while viewing the gorgeous San Diego Bay, you can feel life's stress melt off. Adirondack and lounge chairs are scattered throughout the resort, perfect for curling up with a good book. Walking paths lead to the bay and marina area, and the grounds are well-lit for nighttime strolls. The resort includes a fitness center and spa, as well as a private pool and sun tanning deck for spa attendees. The concierge desk is a convenient phone call away and the concierges are available to assist with in-town dinner reservations, surf lessons, or whatever else floats your boat (no pun intended).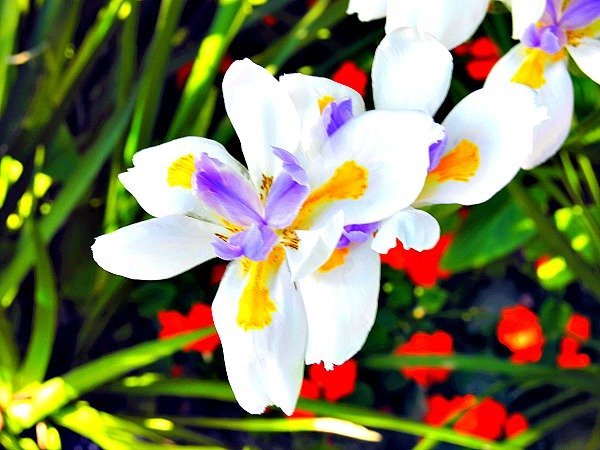 Guest Rooms
The resort has 439 guest rooms spread throughout five buildings. Guestrooms are large and family friendly, with elegant beach decor and large, well-appointed bathrooms with both a soaking tub and separate shower. The rooms are clean and well-maintained, with crisp white bed linens and fluffy towels. Most rooms have breathtaking balcony views of the bay, marina, or pool. Free wi-fi access is now available in individual rooms as part of the resort fee.
Resort Activities
The Loews Coronado Bay has three heated pools, including two that are family-friendly, and one that is adult-only. Lounge chairs and cabanas (available to rent) circle the pool area for sunbathing and lounging, and attendants are on hand to take pool-side drink and food orders. For those who do not wish to swim, there are other poolside activities available such as a giant chess set and ping pong tables, and the tennis courts are just a few steps away.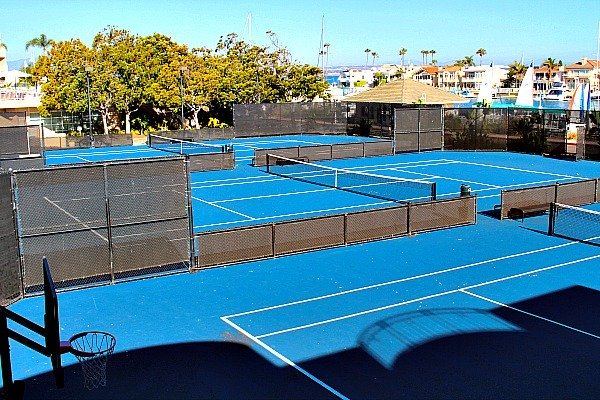 Silver Strand Beach is a quick golf shuttle ride across the road, with complimentary shuttles running approximately every twenty minutes. Once you get to the beach, the resort has beach chairs, towels, umbrellas, and boogie boards available for hotel guest use, so just bring sunscreen and sand toys!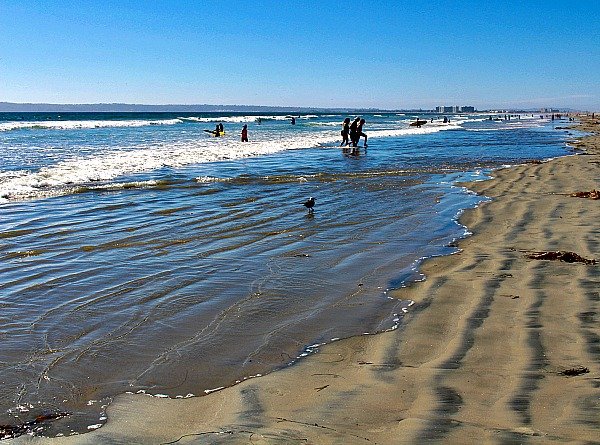 A rental office across from the tennis courts offers guests the opportunity to rent bicycles, surreys, jet skis, wave runners, and motorboats. A fun evening activity is the famous Loews gondola ride through the marina canals and local waterways.
Talk about kid friendly! There are plenty family-friendly activities to do at the Loews. Upon check-in, guests are given a weekly schedule of family activities, which include campfire s'mores on the beach, trivia and bingo competitions, and dive-in movies, complete with popcorn. The Loews Coronado Bay offers daily children's activities (for a fee), as well as a Pottery Barn decorated teen lounge with video games, board games, and music.
Dining
The resort has several restaurants available for guests, each with different tastes and themes. The Market Cafe has delicious buffet and order from the menu breakfasts, lunches, and dinners in a casual setting. The Mistral offers fine dining, including fresh seafood, upstairs from the lobby. Fish tacos, burgers, and cocktails are available poolside at La Cantina. Tables are available or servers will bring orders to chaise lounge chairs. Cays Lounge, at the rear of the lobby, serves hand-crafted cocktails and appetizers. Market to Go, just off the main lobby, has Starbucks coffee beverages available, as well as sandwiches and other light snacks. Juice Therapy, part of the Market to Go area, offers guests fresh, made-to-order juices and smoothies.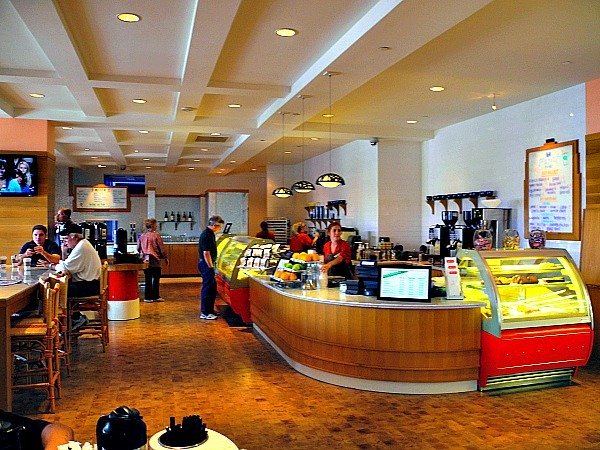 If you are looking for more variety, Coronado village restaurants are a short ten minute drive away. Our favorite restaurants to visit in town are Miguels, The Brigantine, and Vigilucci's. A trip to the village would not be complete without a stop at the famous Mootime Creamery, with fresh ice cream, in unique flavors, made daily. Some people may disapprove of the fact that the Loews Coronado Bay Resort is located outside the village of Coronado, but the hotel offers complementary shuttle service to town, so guests should do not notice any inconvenience.
Dog Friendly
I saved one of the best features of the Loews Coronado Bay Resort for last. Did you notice our little puppy dog in the room photo above? As with most Loews hotels, the Loews Coronado Bay is dog friendly, and when I say dog friendly, I mean very dog friendly! Upon check-in, furry guests are given sterling silver dinner and water dishes, a cute mat to set the bowls on in your guest room, and a selection of gourmet dog biscuits. Special dog meals can be ordered from room service (we brought Freckles favorite food with us), and each guest room is equipped with "doggy doo bags" for quick doggy walk clean up. Dogs are allowed in almost every part of the resort, except the pool area and inside at the restaurants. You can, however, bring your dog to sit on the patio with you at the Market Café, where they are treated like royalty with a bowl full of Fiji water (I am not kidding, it is really Fiji water!) Freckles also enjoyed the luxury of Loews Coronado Bay Resort every visit!
Dogs are also allowed at the inside and outside lounge areas. Each morning, I took Freckles for a long walk around the grounds, then met my family for breakfast on the Market Cafe patio (with Freckles). This allowed the cleaning service to freshen our room without the worry of a barking dog. Housekeeping can also arrange a set time with you, so you can take your dog out of the room. After breakfast and another walk, Freckles was ready for a nap, while we headed to the beach. Since the shuttle runs to and from the beach every few minutes, I was able to come back quickly and spend time with Freckles for play or cuddle time, then meet the boys at the pool for lunch and an afternoon soak (in the pool and sun!) The first few days I worried about Freckles barking in the room, but he was a good boy. There was sometimes noise from other barking dogs, but it is not usually a nuisance. If you go stay at the Loews Coronado Bay without a dog, request one of the dog-free buildings.
Bottom Line
The Loews Coronado Bay is a beautiful resort, with great family activities, nice pools, and a gorgeous beach is a five minute shuttle ride away. The resort is pet-friendly, relaxing, luxurious, with beautiful views from every area of the resort. The room rates are more expensive than some hotels in the area, and there are resort and parking fees on top of the daily room rate, but we've found the Loews Coronado Bay to be worth every penny. To save money, you can find special deals online at the Loews hotels website, and if you are a member of the Loews YouFirst loyalty program, you can find additional amenities. We have stayed at this resort seven years in a row, and will return again next year!
For more information, visit the Loews Coronado Bay resort website.
(Disclosure: I received no compensation for this review. The Loews is an annual tradition for my family, and my opinions are 100% my own.)
Save