Most travelers who visit Arizona are surprised to find that we have such a unique and diverse topography. Flat desert with saguaro, craggy rock summits, ponderosa pine forests, and frosty snow-capped mountains, and all this terrain can be accessed by our gorgeous Arizona highways and by-ways. One of the most beautiful drives in Arizona is the Joshua Forest Parkway, also known as Scenic Route 93.
Joshua Forest Parkway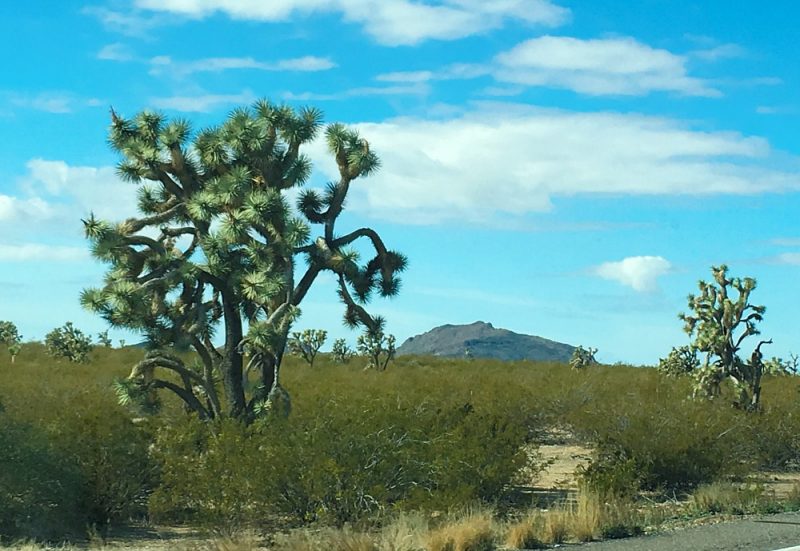 I know what you are thinking….joshua trees grow in California, not Arizona, you crazy heat-stroked woman! With all due respect to U2, while California does have beautiful joshua trees and even a national park named after them, they don't have all of them –we have our fair share of lovely Joshua trees here in the A-Z too! We even have a whole road devoted to them, how about that?!
A few weeks ago we took a drive on the Joshua Tree Forest Parkway. Coming from Phoenix, Rt 93 originates in Wickenburg (via Rt 60 from Phoenix or Rt 74 Carefree Highway). Rt 93, the main route between Phoenix and Las Vegas, meanders over hills and valleys on a breathtaking drive toward Kingman, with quirky little Joshua trees along the path, of course.
We were quite intent to spot a few Joshua Trees on this drive, so with our eyes glued to the roadside, we searched every branch and cactus, trying to determine exactly when the Joshua Tree Forest would appear. All of a sudden, at about Mile Marker 10 (heading west) we saw them…a few at first, then a true forest of them, just as the route promised. We saw them continuously for the next 45 minutes or so, and then they slowly dwindled to a few at a time, just outside Wikieup, Arizona.
Joshua Trees are certainly unique looking. Did you know Joshua trees are not really a tree but a yucca plant, part of the lily family? In the spring, the Joshua tree blooms with large bell-shaped white flowers that cluster around the green of the plant. I have not had an opportunity to smell a Joshua tree bloom yet, but have heard they are quite pungent.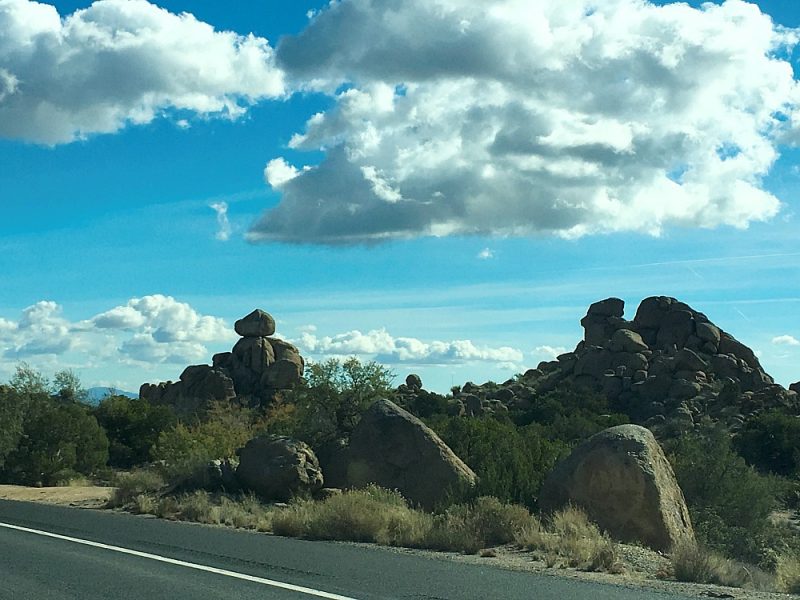 During our drive, we saw fields beautiful mountain peaks, dry river beds, and boulders teetering atop each other, creating a whimsical Dr. Seuss-like atmosphere. And the sky? The sky was a brilliant shade of indigo blue.
In addition to the joshua trees, another interesting thing to see along the drive is the famous Nothing, Arizona sign, where there really is "nothing" there. That's the thing about Arizona. You can take a drive past Nothing, and it is really "something". Every road in Arizona is a new adventure…every tree/lily/cactus a new sight to see. Even in the heat of the summer, Arizona is always worth the trip!
Tip: If you come to Arizona in the springtime, in addition to the Joshua Tree Forest Parkway, check out our gorgeous spring wildflower blooms.