There are several reasons why these are the Best Things to Do in Gatlinburg and Pigeon Forge Tennessee for Families.  Mainly it's because this was my first family vacation there and we were complete novices – we had no idea what was in store.  Second is because we may have actually broken the law by not visiting Dollywood.  But let me start off with a little bit of background by telling you the things that really get me jazzed on vacation…
The OCEAN (complete with sandy beach)
The TAN that I get on the sandy beach – even though the voices in my head, which sound a LOT like my dermatologist, tell me not to like it
The fresh SEAFOOD that I get from the restaurants that overlook the tan people on the sandy beach by the ocean
SHOPPING.  Because…duh,shopping!!
Seeing my KIDS HAPPY!  OK, maybe this isn't listed in order of importance
And, do you know what makes my kids happy?  That's right…THE BEACH!!!  So imagine the looks that I got this year when I said "we're not going to Virginia Beach for Easter this year.  We are going to Tennessee!!!"  Even my mirror looked at me funny.  Landlocked, country music loving, Gatlinburg, TN.  WTH?  Virginia Beach had fulfilled #1, 3, 4, and 5 for the last four years.  But when Easter falls in March, not many touristy options are open to spread the joy.  My decision was based solely on the likelihood of me being cold (and whiny) and stuck with bored (and whinier) kids.  It had NOTHING at all to do with the fact that 2 of the 4 years we went there, different souvenir shop owners had grinned at me and then promptly asked if I was traveling with my grandchildren.  A-holes.
The Best Things to Do in Gatlinburg and Pigeon Forge for Families
The thing is, I didn't know everything or even a whole lot about the destination that I unilaterally selected for my family.  What I did know was that 17 years ago, I took a business trip to Pigeon Forge.  And two memories stayed with me.  First, I stayed in a 2 star hotel and STILL ended up having a fireplace AND hot tub in my room.  Seriously, when does THAT happen?  Second, the town of Gatlinburg was quaint and tacky all at the same time and it was surrounded by the most beautiful mountains I had ever seen.  I swore to my 17 years ago boyfriend that I would go back with him sometime.  And over Easter, we did.  Of course he had a new title – husband of 15 years – and we had our 8 and 12 year old minions in tow.
By this point you have to be thinking "OMG WILL YOU GET TO THE FRIGGIN' POINT ALREADY?!?!  I googled to find out what to do in Pigeon Forge, not to read your life's story!!"  Cool your jets – we're almost there.  As it turned out, Pigeon Forge and neighboring Gatlinburg are STUFFED with everything that a kid would want to do…ever.  There were so many family oriented activities lining the road that we didn't get to even 1/2 of the things that looked appealing.  But here are the 5 best things that we did – in order from the OMG awesomest to the Still Really Good, for all you listy people.
#1 – Titanic Museum Attraction, Pigeon Forge
My number one by far – loved, loved, loved The Titanic Museum!  PROBABLY my 8 year old's number 1,346th choice, but he bucked up in the gift shop, so don't cry for him Argentina.  I am, and always have been, intrigued by the Titanic.  So imagine my reaction to seeing the front quarter of the Titanic sitting roadside in Pigeon Forge.  The day that we visited, we had already been to 5 other attractions.  I was exhausted.  STILL WORTH IT.
All the museum staff wore period costumes.  The experience began from the moment you approached the doors and were presented with a boarding pass.  The boarding pass held the name of an actual passenger of the Titanic, and told you a little about their life.  Everyone received a recording that they play as they walked from room to room.  You could listen to the adult recording or to one made especially for kids.  In all honesty, I stopped listening to it after the first 2 rooms, as I preferred to read the plaques and look at the artifacts.  And there were artifacts.  There were actual objects that had been on the Titanic on display – even a deck chair!  And while the grand staircase was obviously not the original, the plans were.  An exact replica of the staircase took you to the upper floor.  My Titanic-phile toes curled with ecstasy.
Beyond the memories encased for the world to see, this museum helped to actually transport you to the Titanic.  While looking at an item on display, I heard rushing water and looked over to find a staircase with water flooding down the steps.  While you are protected from the water by Plexiglas, it still gives you  a glimpse of the fear that the passengers must have experienced.
In one room dedicated to the musicians of the Titanic, a costumed violinist played "Nearer My God to Thee," just as it was rumored to have happened while the ship was going down.  I had to hide from my kids until my eyes stopped filling with tears.
On the bridge, a man who looked so much like the real captain that you wondered if he was a ghost, told tales from the Titanic as well as from his own life.  The actor had been part of a Russian submersible dive of the ruins.  I believe this gentleman travels between Titanic exhibits, but if you are lucky enough to be there when he is, it adds to the experience.  It is important for me to note that it was at this moment on the bridge, with no other sound than the Captain's voice, that my 8 year old (standing front row) let out a pained moan and rolled not only his eyes, but his entire head.
On the "deck" here were three miniature deck sections, built to exhibit the estimated angles of the ship as it was sinking.  The third deck was too steep for me to climb even holding onto the rail.  If you reach over the bow of the ship, you can immerse your hand in the 28 degree water that the passengers  plunged into.  I couldn't keep my hand in it for 5 seconds.  My 12 year old accepted the Captain's dare and kept his in for 30…twice.  I'm sure he'll feel his hand again someday.
And then, as you approach the end of the tour, you can see your fate.  There is a full listing of the survivors and those who were not as lucky.
#2 – WonderWorks, Pigeon Forge
Pretty sure Wonder Works ranks as number one on the kids' chart.  It was super cool.  The building itself looks like it landed there on its roof after being tossed there by a tornado.  It is upside down.  In fact, when you walk inside, the lobby ceiling is the floor.  WITH a staircase!!  Once you move out of the reception area and into the main attraction, that fun stops.  But all the other fun begins!  The best way I can describe WonderWorks is by saying it is a hybrid of a science center, an arcade, and an indoor amusement park.  The kids loved it and begged to return the next day.  But, you know, I wasn't willing to sell my other kidney to pay for more tickets.  Inside, the kids were able to touch lightning, nail zombies with dodgeballs (screen zombies, don't get too excited, Rambo), ride things, climb walls, play trivia, land a plane on an aircraft carrier (in my case, crash a plane into an aircraft carrier), be an astronaut, lie on a bed of nails, climb a 3-story ropes course and play laser tag.  Or, if you are like us and arrive late, you can stand in line for an hour and a half with your oldest, watch him do the ropes course, and leave because it's closing.
#3 – Ripley's Aquarium of the Smokies, Gatlinburg
I like Aquariums.  I have been to some really nice ones – the National Aquarium in Baltimore, the New Orleans Aquarium, Adventure Aquarium in New Jersey.  Ripley's Aquarium of the Smokies had the BEST shark tunnel EVER.  The people mover kept traffic flowing, and it was really long, so you had a lot of chances to see the underbellies of sea creatures and snap selfies with sharks.  There was a place to touch jellyfish and an open area to pet stingrays.  Well, correction, by my calculations, you would need the wingspan of an NBA player to actually reach the stingrays.  But I'm sure the mom's and dad's who spend their fair share of time in the gym could suspend junior by his feet over the pool so he can touch the rays too.  Either way, it was cool.  Even cooler was the play pen that was set up in the stingray pool – it held 2 baby hammerhead sharks and one baby ray.
Another fun part of the adventure included a tunnel which ended up in a bubble on Penguin Playground and 3 fish tanks that were hollow inside.  Each allowed the kids to crawl up and be inside the experience.  Of course I decided to stuff my fat @$$ up that tiny little space in the fish tank so that I too could be part of the experience.  I almost got stuck half in / half out.  Picture a 15 pound newborn trying to climb back into his mother.  No, don't picture that – that is just gross.  I muscled through.  Once in there, I immediately felt the lack of oxygen, followed by the germs of a million children who were there before me, during cold and flu season.  I wasn't sure how to reverse bend myself out of there and as a result, I am still living there today as part of the exhibit.  The fish get really pi$$ed when the cleaning staff squeezes fish sticks up into the tank for my dinner.  Feel free to write to me at:  Chick who got stuck in an Aquarium, 88 River Rd., Gatlinburg, TN  37738.
#4 – Wild Bear Falls (Indoor) Water Park, at the Westgate Mountain Resort, Gatlinburg
The kids loved Westgate Smokey Mountain Resort.  There are water slides, inner tubes, a lazy river, giant buckets of water spilling onto your head, water cannons, a basketball pool, and everything that a kid could hope for in a water park (without the sunburn). And for the parents, a snack bar with beer and cocktails (smiley face smiley face smiley face).  I suggest you get there early enough to get a seat somewhere in the building if you aren't planning on swimming yourself.  The first day we got there about 20 minutes before it opened.  It is good time to people watch.  For example, I watched the people who walked in behind us, go stand in line in front of us.  I watched people create two lines for one person on duty.  I watched one family talk to that one staff member for about 30 minutes before she sold anyone a friggin' ticket.  And by the time THAT happened?  Well, by that time, I had Julie McCoy cruise-directored the people around me into a single, orderly line, and was offered the opportunity to raise some man behind me's child.  He was unwilling to take me up on a 2 for 1 trade, so we moved on with our lives separately.
When you are picking your seat (because you listened to me and got there early), I suggest that your seat be downstairs if it is warm out.  The day that we sat upstairs, my husband asked me approximately 5 times to go outside and get some air (clearly fearing that he was going to have to dead lift me and carry me down the stairs when I passed out). I told him no and brought back cold cocktails.  Because nothing pairs better with overheating than dehydration!  The 5th time he asked me to go, I went.
The day that I sat downstairs felt more reasonable temperature-wise.  We don't need to discuss the thing from Deliverance that sat next to me when my husband went searching for our kids.  He did not speak when I told him that my husband was sitting there, nor did he move, but he did bore through my head with his eyes.  Thankfully, the hub was back quickly, kvetching that I "gave away" his seat.
#5 – Outbreak – Dread the Undead, Pigeon Forge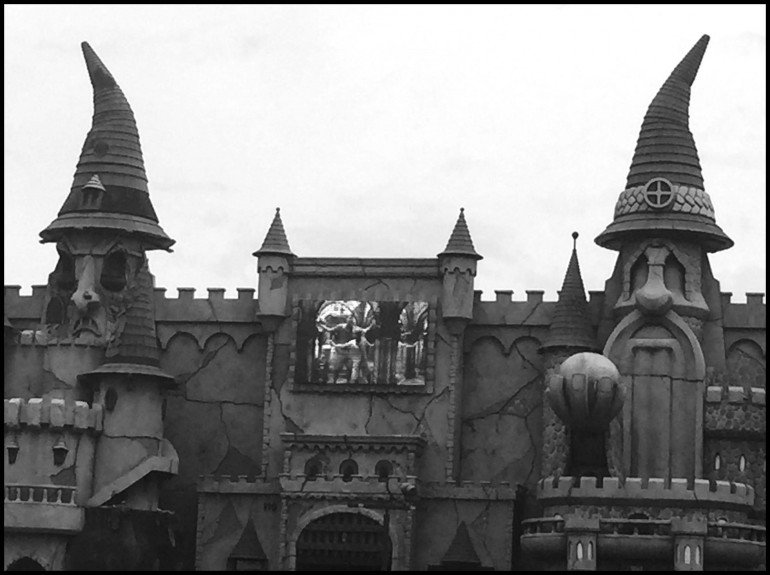 I'm not sure if my kids would put Outbreak at the "top" of their experiences, but I will tell you that it is the one that they talked about most of the way home.  This can be found in the Castle of Chaos, right behind the wax museum* (the one that features a Hollywood style parallel universe version of Mt. Rushmore on one side and King Kong on the other side of the building).  The Castle of Chaos encompasses 3 activities – a hall of mirrors, a 5D shooting adventure, and Outbreak.  The hall of mirrors was cool, but short lived.  The 5D shooting was less than thrilling – the thrill for me was waiting to see if my 8 year old threw up as we spun around the room.  Mainly because he announced in line that he felt sick to his stomach.  And THAT was because he was still scared $*!%less from Outbreak and was afraid to go into another room in the same building.
Outbreak is set in Chemacorp.  A video at the entrance welcomes you…but then WAIT…something bad happens…very bad according to the news.  And that is when you are escorted in.  It even smelled like chemicals.  Within 60 seconds, my children began to panic.  "MomIcan'tstayinhere!MomIneedtogetout!!I'mnotkiddingmom!!!Pleasetakemeoutplease!!!!"  Yeah, well, Mom loves the scary ones, so she lied and said it was almost over.  I know – judge if you must.  I did try to calm them down and talk them through the panic, I mean I'm not a monster.  There are a few jump scares and a lot of animatronics which make the experience realistic.  I would not take really young kids.  They might like getting soaked by the brains even less than my husband did.  Hey, what can I say, sometimes heads explode.
*The wax museum may have had a really cool exterior, but Madame Tussaud's it is not.  The kids really enjoyed posing next to some of the figures, particularly the horror movie villains, and I really enjoyed seeing my husband preparing to beam up with Spock, Dr. McCoy and something that seriously could NOT have been Captain Kirk.  However, I was not impressed overall.  The museum should personally apologize to Matt Damon as they could not even come close to recreating his face EITHER time he was displayed.  The museum should personally apologize to ME because they did not feature my future husband, Channing Tatum, anywhere.
I feel as though this is the right time to tell you that the main reason I wanted to go to Gatlinburg was because of the beauty of nature all around.  There is a lot of awesomeness that can be done in nature here.  There are wooded hikes, alpine slides, and steep (crap yourself steep) ski lifts up the side of the mountain.  We, however, did none of it…with one exception.  After 4 days of incessant nagging, my husband did stop so that I could dip my toes in the stream on our way out of town.  Had we headed 2 minutes in the opposite direction from our home, there would have been a number of nice places to pull off the road and wander down a gentle hill to the stream.  But that was in the WRONG direction and that's not how we roll.  My husband found a delightful spot where he parked half on/half on the street (possibly because I was screaming that he was about to back us off a cliff) and we scaled down the side of the "path" he found (no path – there was no path).  And you know what?  It was totally worth it. Every slippery second of it.  Maybe we'll get take a longer meeting with Mother Nature next year.  I mean we have to go back – the kids are begging us to – and I think we have to do community service for missing Dollywood.