Looking for an oh so yummy pastry with cranberry and apple? One of my new recipes this year is this Cranberry Apple Strudel, it is a little bit sweet and a little bit tangy, the perfect blend of holiday flavors. Delicious for a holiday breakfast or dessert, this Cranberry Apple Strudel can be served warm with a big scoop of ice cream or at room temperature. My official taste tester (my husband) loved it and your family will too!
It is just over a month until the big day and I am getting excited…and by the big day, I mean Thanksgiving. Thanksgiving is like my Super Bowl. I don't want to toot my own horn (toot, toot) but for Thanksgiving, our house is the place to be. Friends and family know there will always be lots of yummy food, fun, and laughter at our house! What could be more perfect than that? To get ready for Thanksgiving, I buy my supplies in advance, make sure I have the pots and pans I need, and test new recipes to make sure everything is perfect…because I know from experience that sometimes life does not always go perfectly.
Alternate Options
Not everyone in our crowd is a fan of holiday pie so I try to make a few other kinds of dessert treats to keep them satisfied. This Cranberry Apple Strudel offers a delicious alternative and you can customize it with your own favorite ingredients. The following are some ideas to personalize this for your crowd.
Nuts: Add pecans or walnuts to the cranberry apple mixture.
Chocolate Chips: Add dark or white chocolate chips to the apple mixture for a delicious surprise.
Fruit: If you do not want to use cranberries or apples, substitute with fresh pears, cherries, or blueberries.

Cranberry Apple Strudel
3 c. Apples (Use a sweeter apple such as Gala or Fuji)
1 c. Fresh Cranberries (Washed)
4 Tbsp. White Sugar
1 Tbsp. Ground Cinnamon
1/8 tsp. Ground Nutmeg
1/8 tsp. Ground Cardamom
1 Sheet Frozen Puff Pastry
Egg Whites from 1 Egg
1 tsp. Water
Glaze
3/4 c. Confectioners Sugar
1 1/2 – 2 Tbsp. Milk
Preheat oven to 400 degrees. Wash, peel, and core the apples. Chop into small 1-inch pieces and place in a large bowl. Wash and dry fresh cranberries and cut into quarters.
Add to the bowl with the apples. Add the sugar, cinnamon, nutmeg, and cardamom and toss together to mix. Set in the refrigerator for about 30 minutes. Take the puff pastry sheet out of the freezer and allow to thaw for about 30 minutes. Sprinkle your pastry board or countertop with flour, then roll out the pastry sheet to about double its original size.
Gentle place the pastry sheet on a parchment paper-lined baking sheet. Score slits in one side of the pastry sheet about 3 inches long and about 1 inch apart. Do the same to the other side, but make certain your middle uncut pastry section is about 4 inches wide, to hold the apple-cranberry mixture.
Spoon the apple-cranberry mixture into the center of the pastry sheet and then criss-cross the cut edges over the center, creating a lattice effect over the mixture. When all the apple mixture has been covered with the dough, cut seal the edges by placing your fingers in a small bowl of cold water then pinching the edges together.
Whisk the egg white and 1 tsp of water together and brush over the top of the pastry. This will give it a nice shiny glow. Place the pastry in the oven and bake for about 20-22 minutes. Keep an eye on it, as puff pastry can burn easily. Remove from the oven and cool for about one hour. Whisk together the glaze, adding more milk if the mixture is too thick. Using a whisk, drizzle the glaze over the top of the strudel and allow the glaze to harden for about 20 minutes, then serve. Perfect!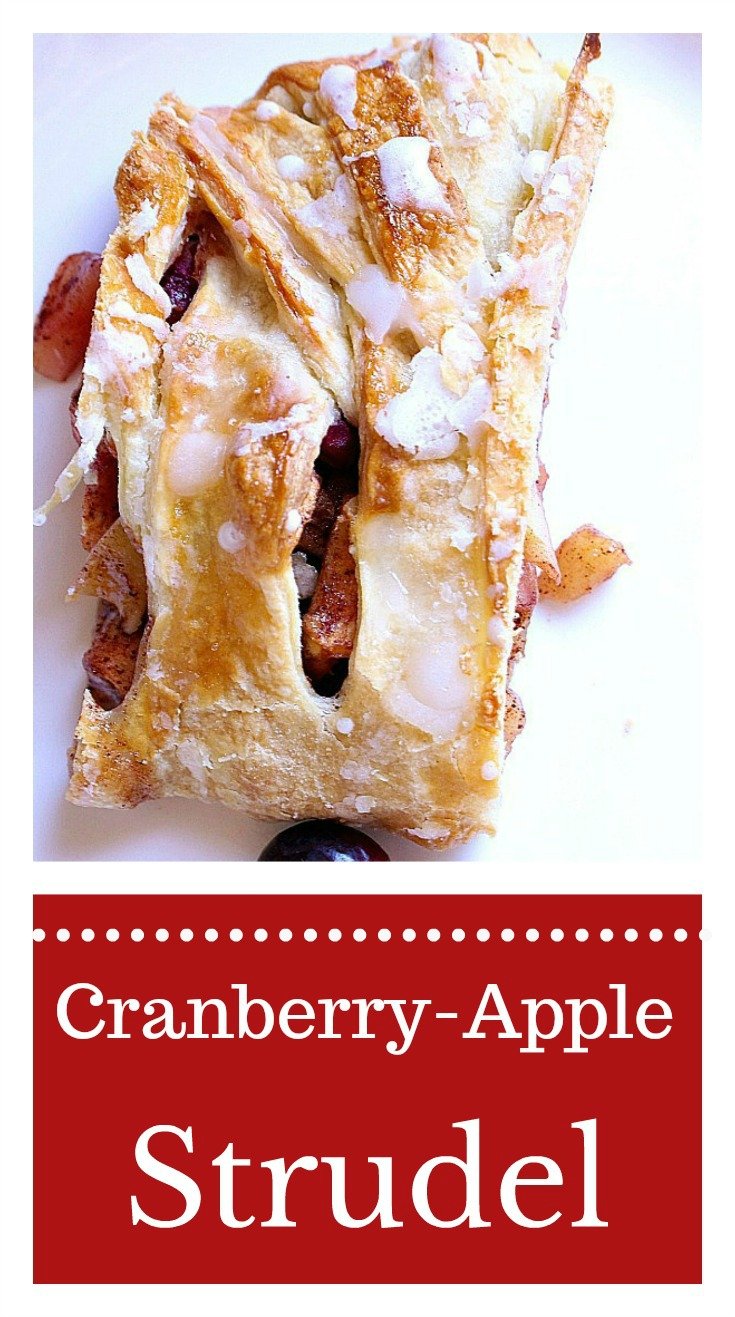 Other delicious holiday recipes:
Ten Cranberry Recipes for Thanksgiving
Save
Save
Save
Save
Save
Save
Save
Save
Save
Save
Save
Save
Save
Save
Save
Save
Save