Candied Bacon Lollipops. Bacon, bacon, bacon, bacon, bacon. Sweet tangy candied bacon.
Let that sink in a moment. What could be more perfect than bacon? Bacon on a stick….with a brown sugar-mustard glaze, spiked with bourbon. Oh sweet Lord. I know what you are thinking….why bother with the stick, why not just eat it off a plate?! Why? Because bacon on a stick is cool….and because it makes it less messy to eat at a Superbowl party. If you can't wrap your head around the idea of bacon on a stick, don't use it….but don't come to me when your hands are too sticky to eat nachos. (You going to have nachos too, right?)
Before we begin, I need to give you a short science lesson on cooking with sugar. Sugar, especially brown sugar, has a low scorch point, which is the point in which sugar goes from caramelized to nasty gross burnt. When you are working with brown sugar and sizzling bacon, the scorch point can change in seconds, so you have to watch your bacon carefully. Also, sugar that is mixed into a liquid has a higher scorch point, which is why I mixed a little of the brown sugar with the Dijon mustard and ketchup. This allows the bacon to cook longer, without burning the whole batch. The dry brown sugar mixture sprinkled on the last five minutes has time to caramelize, so you are left with yummy deliciousness…on a stick.
Candied Bacon Lollipops
1 lb. Thick Cut Bacon
1 Tbsp. Bourbon Whiskey*
4 Tbsp. Brown Sugar
2 Tbsp. Dijon Mustard
1 Tbsp. Ketchup
1/2 c. Brown Sugar
1/2 tsp. Garlic Powder
1/4 tsp. Cayenne Pepper (Ground)
1/4 tsp. Ginger (Ground)
Lollipop sticks
Preheat oven to 325 degrees. Line a baking sheet with aluminum foil. Open a package of bacon and cut each slice of bacon in half. Whisk together the 4 Tbsp. of brown sugar, bourbon, Dijon mustard, and ketchup. Lay the pieces of bacon on the baking sheet and brush with the brown sugar "slurry". Place in the oven for about 10 minutes. In a separate bowl, mix together the 1/2 c. brown sugar, garlic powder, cayenne pepper, and ginger.
At the 10 minute mark, pull the bacon out of the oven and sprinkle the dry brown sugar mixture over the bacon, generously coating each piece. Place the baking sheet in the oven and bake for about 5 more minutes. This is the point where you need to watch the pan very carefully so the bacon does not burn. If the brown sugar mixture bubbling on the pan starts to turn dark, get the pan out of the oven ASAP!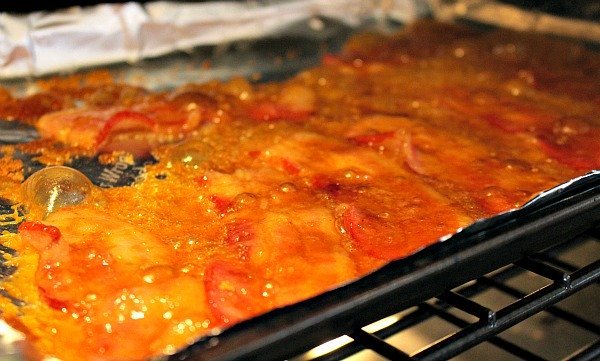 Line a plate with aluminum foil and carefully remove the bacon pieces with a fork and place onto the foil-lined plate. Allow the bacon to cool about 4 minutes, then carefully poke a lollipop stick through one end, then the other end of the bacon. Put the candied bacon lollipops in a large glass and serve immediately.
*If you want even more bacon, try my recipe for insanely Irresistible Bacon Wrapped Meatloaf.
Save