A stay at the iconic Fairmont Banff Springs Hotel in the Canadian Rockies is a once-in-a-lifetime experience, but would not complete without experiencing the famous weekend brunch buffet in the Vermillion Room. Imagine dining on brunch cuisine in a gorgeous eatery, with views of the majestic snow-capped Mount Rundle. Exquisite food, extraordinary service, and incredible views: this is weekend brunch at the Fairmont Banff Springs Hotel.
(I was hosted for brunch but all opinions and photos are my own.)
Brunch At the Fairmont Banff Springs Hotel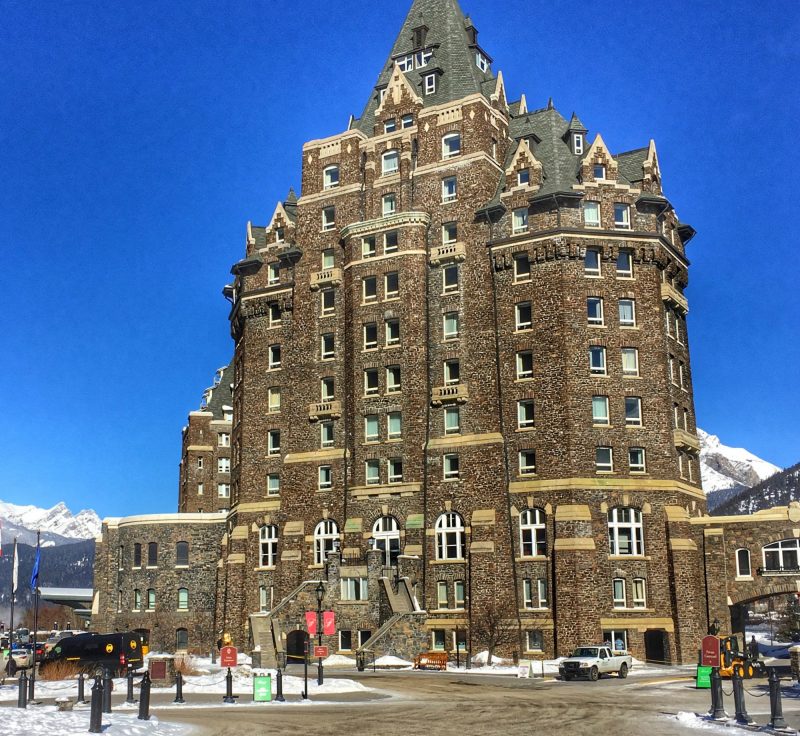 Known as the "castle of the Rockies", The Fairmont Banff Springs Hotel, a historic hotel in the heart of Banff National Park, has been entertaining guests since 1888. Originally opened as one of the grand hotels of the Canadian Pacific Railway, it became a Fairmont hotel in 2001. The hotel has thirteen bars and restaurants, including The Vermillion Room.
During the week, the Vermillion Room at The Fairmont Banff Springs Hotel is a french brasserie open for breakfast, lunch, and dinner, but each weekend the restaurant is transformed into a decadent brunch buffet from 11.am. – 3 p.m.
Breakfast fare like eggs benedict, waffles, and pancakes is paired with an abundant hot and cold seafood bar, a meat carving station, fresh fruit, salads, and kid-friendly dishes. The buffet also featured a charcuterie station, baskets of homemade bread and pastries, and a hot foods station with unique pasta, meat, vegetable and seafood dishes such as bolognese, coq au vin, cassoulet, and bouillabaisse (I may or may not have over-indulged on the Brussels Sprouts).
The dessert station featured several exquisite bite-size treats such as lemon tarts, profiteroles, and macarons, as well as their famous bread pudding and other dessert parfaits. Hot and cold beverages, such as juice, coffee, and tea (including lattés and mochas) are included in the buffet rate, and cocktails and mimosas are also available.
The restaurant was busy and a little noisy, but a window seat gave us prime real estate to assess both the room and the magnificent mountain views outside. Although brunch was busy, servers kept dishes filled to the brim and we never had more than a 30-second wait for any of the serving stations, other than the omelet station.
From the moment we arrived, the service was impeccable. When we checked in for our reservation, the host staff took our winter outerwear and showed us to our table. Our server was prompt and attentive, and intuitively knew when we needed a water or coffee refill. Wait staff quickly cleared used dishes and the rest of the staff in the restaurant was friendly and courteous.
The weekend brunch at the Fairmont Banff Springs Hotel in The Vermillion Room is available Saturday and Sunday from 11 a.m. – 3 p.m. Brunch is $54 for adults and $27 for children (CAD) Reservations are suggested.
For more dining options in Banff National Park, please see my article on Dining at the Fairmont Chateau Lake Louise.
Are you thinking about a trip to the Fairmont Banff Springs Hotel?
When you are ready to book your Fairmont Banff Springs Hotel vacation, please remember that I am also a veteran travel advisor and Canada expert and can assist you with your travel plans. My partnership with Signature Travel Network (as an independent affiliate of Plaza travel) allows me access to exclusive amenities with extras like free breakfast daily, room upgrades, resort credits and more. For more information, please visit the Wander & Bloom Travel website!