Arizona is known for its luxurious resort spas, many of them in the Paradise Valley and Scottsdale area of Phoenix.  Sixteen miles south, out of the hustle and bustle of Scottsdale, is a hidden gem nestled against the Sierra Estrella Mountains – The Aji Spa at The Sheraton Wild Horse Pass Resort.
The Sheraton Wild Horse Pass, is a Native American-owned resort located in Chandler, on the Gila River Indian reservation.  The AAA four-diamond resort features 500 guest rooms, four pools, two Troon managed golf courses, three restaurants (including the five-diamond Kai restaurant), and a full resort spa, Aji.
Aji means sanctuary in the Pima language, and the Aji Spa is truly a sanctuary from stressful every day life.  When I arrived, my stress level was through the roof, but the soothing earth tones and textures of the spa put me immediately at ease. Located in a one-story adobe building separate from the main resort, Aji features a front lobby with mosaic tile and stone flooring, Native American accents, and a stone fountain with water trickling softly into a small pool in the floor.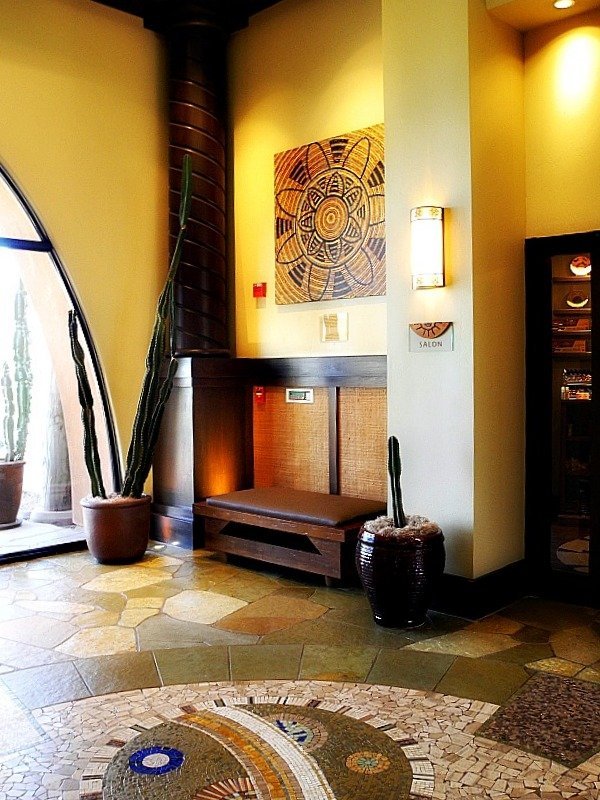 A front desk receptionist greeted me and confirmed my treatments; an attendant gave me a tour of the facilities, including the women's locker room, so I could change for my treatments,  A spa robe and slippers were provided to me, and I quickly changed for my first treatments.
Spa Facilities
The women's locker room features a sauna, steam room, and both indoor and outdoor women's only jacuzzi.  There are also toilet facilities, showers, and a grooming area to dry and style hair and makeup.
While awaiting treatments, guests have several places to relax.  A women's-only lounge right outside the women's locker room is smaller and quieter, and the larger co-ed lounge features an adobe fireplace, coffee and tea service, and lounge chairs.
A private spa pool sits just outside the co-ed lounge, with an abundance of lounge chairs for Arizona sun worshippers.
Spa Treatments
Aji features a full Native American spa menu, with healing treatments administered by Pima and Maricopa cultural caretakers.  Services include water treatments, wraps, facials, and massage treatments featuring organic ingredients found on the Gila River reservation, including lavender, creosote, sage, yucca, prickly pear, and willow bark.  My first treatment, a Wihosha (facial), included cleansing, exfoliation, mask, and moisturizer. My caretaker included a back and shoulder massage with the treatment.
For my second treatment, the Heosig aromatherapy massage, I had a choice of one of three essential oil fragrances – one for relaxation, one for detoxification, and one for energy.  I chose the relaxation oil, blended with lavender and other herbs to help me unwind.  The massage therapist recited a Native American chant at the beginning and end of the session while rattling a natural gourd shaker over my body.
Authentic Native American Art
Native American "style" accents are common in Southwestern spa decor, but the artwork and decor at Aji are true authentic cultural pieces from the Pima (Akimel O'otham) and Maricopa (Pee Posh) tribe.  The gorgeous rugs, paintings, pillows, blankets, pottery and other pieces scattered throughout the spa (and entire resort) represent the hard work and beauty of the Pima and Maricopa Indian community.
My Thoughts
My treatments at Aji were relaxing and comfortable.  The facialist explained every step of the process and suggested products for my sensitive skin (without the high pressure pitch you sometimes get at a spa).  The massage therapist asked my pressure preference before beginning, and was careful to keep that level of pressure the entire treatment.  The products used for my treatments were lightly scented and pleasant, and when I left, my skin felt dewy and refreshed.  The lounges were comfortable and the warm tones and Native American music piped into the rooms were soothing.  I appreciated the extra touches, such as the hair dryers, mouthwash, and toothbrushes for guests, and sage scented body wash, shampoo, and conditioner in the showers. The facilities were clean and comfortable, and my only complaint was the shower curtains in the shower area, which could be a little bit cleaner.
In addition to facial treatments and massages, Aji offers body treatments, nail services, hair and makeup salon services, and customized tennis and exercise programs. Aji spa rates vary per treatment, and packages are available. My facial and massage were about 1/4 less than treatments at the high-end Scottsdale resorts, with the same quality of service and ingredients.  Spa guests have use of the spa pool and fitness facilities on the day of treatment, and the Aji café features a healthy lunch menu for spa guests.
Aji is open Monday – Friday from 8 a.m. – 6 p.m. and Saturday and Sunday from 7 a.m. – 6 p.m.  To view spa services, visit the Sheraton Wild Horse Pass website.  To make a spa reservation, call 602-385-5759.