Cold/rainy/blustery weather = Nesting
and
Nesting = Comfort food.
Even in Arizona we get chilly weather in the winter time, so creamy macaroni and cheese, with my Crack Meatloaf and a fresh salad, makes a warm, wholesome comfort food meal.   This recipe can be served right from the pot, or you can bake it in the oven for 15 minutes to give the top an added crunch.  Creamy Macaroni and Cheese goes perfect with Crack Meatloaf and a salad for a quick weeknight meal.
Creamy Macaroni and Cheese
2 c. Macaroni noodles (I used elbow, but use any shape you like.)
6 Tbsp. Butter
2 Tbsp. Super Fine Flour (Like Wondra)
2 c. Half and Half (You can use fat-free)
3 oz. Velveeta  Cheese
1 c. Shredded Cheddar Cheese
1/2 c. Shredded Parmesan (Freshly shredded is best)
1 tsp. Salt
Pepper to taste
Cook the macaroni noodles according to box directions.  While the macaroni is cooking, melt the butter in a large sauce pan over medium heat.  Sprinkle the flour over the butter and whisk until blended.  Allow the roux to bubble a few minutes, stirring occasionally, and then slowly stir in the half and half.
Turn the heat up to medium high, and cook until the mixture boils.  Be sure to stir frequently so the cream does not burn. Allow the mixture to boil for about 2 minutes, stirring constantly, and then remove from the heat.  Add the Velveeta cheese first, stirring until it melts.  Add the Cheddar and Parmesan cheese, as well as the salt, stirring until melted.
Drain the macaroni noodles, and immediately pour the cheese mixture over the noodles.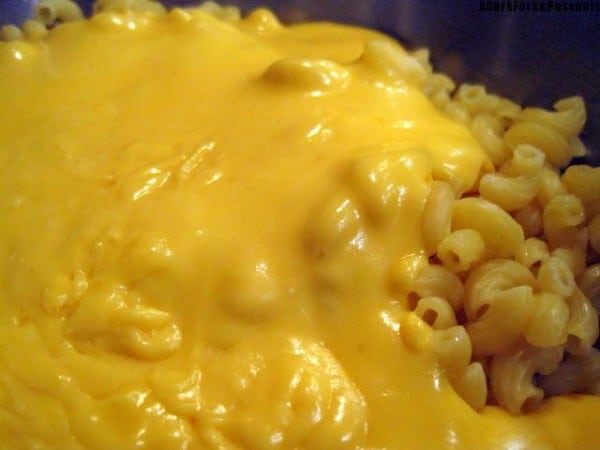 You can either serve the macaroni like this, or put the macaroni in a baking dish, and bake in a 350 degree oven for 20 minutes.  (As you can see, we like it baked!)
Save
Save
Save
Save
Save
Save
Save
Save